Happy Birthday to Alexis Arquette!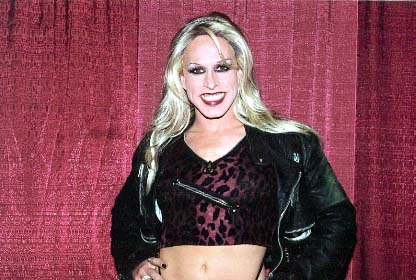 Before Chaz Bono went public with his transition from female to male last year, the talented Alexis Arquette had already gone through her transition from male to female.
At the Outfest Film Festival four years ago, I watched the documentary Alexis Arquette: She's My Brother and found it to be very moving and not easy to sit through because of its honesty about such things as taking hormones and about removing or not removing genitalia.
The decision to transition could not have been an easy one and professionally, it has clearly had an impact. Until last year, Alexis has not had a movie role since 2005′s Lords of Dogtown and her only television role since then had been a 2008 episode of Californication.
Prior to her transition, she had been the male star of such independent films as
I Think I Do
with
Tuc Watkins,
Grief
, and
Killer Drag Queens on Dope
, and had supporting roles in such studio movies as
The Wedding Singer
(remember the
Boy George
-like singer?),
Threesome
and
Bride of Chucky
. Her breakthrough role, ironically, was as transvestite Gorgette in 1986′s
Last Exit to Brooklyn
.
Last year, Alexis shot two films: Here & Now and Hard Breakers. This year, she appears in the film Getting Back to Zero.
Alexis, pictured below with famous sisters Rosanna and Patricia, deserves the very best and and I hope she is having one helluva 42nd birthday party!