Happy 77th Birthday to Billie Jean King!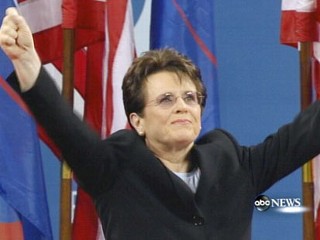 Billie Jean King has had such a remarkable life so far and you have to figure that as she turns 77 years old today, she is still looking ahead and dreaming new dreams.
Ever since she burst onto the scene in 1961 and won the Wimbledon doubles championship as a teenager, she's been in the thick of things. Her tennis career was one of the greatest of all time as she won a record 20 Wimbledon titles (six in singles) as well as singles titles as the US Open four times and  a French Open and an Australian Open title making her one of just a handful of female players to have won the sports four grand slam singles titles in their career. When you add in all of her doubles and mixed doubles at the big four, she won a whopping 39 of them.
While she was the number one player in the world, she successfully led the battle for equal prize money and for Title IX which required parity for girls sports in school. She also, by the way, formed the women's tennis tour that still exists today as well as the Women's Tennis Association, the Women's Sports Foundation and World Team Tennis.
Billie Jean's fame grew even more in 1973 – the year she won the singles, doubles and mixed doubles titles at Wimbledon – when she beat Bobby Riggs in the famous Battle of the Sexes match. It was a huge nationally televised event and when Billie Jean easily won in straight sets, it was a huge win symbolically for gender equality.
These are lasting legacies and since coming out as a lesbian a few decades ago (She and former pro Ilana Kloss have been together for more than 30 years), Billie Jean has been vocal on the LGBT front as well and helped raise millions of dollars for AIDS charities.
Her life has been trying to make things fair for everyone on and off the court and it's been so wonderful that she has been recognized for her contributions in some big ways including receiving the Presidential Medal of Freedom from President Barack Obama , having the United States Tennis Center in Flushing Meadow (site of the US Open) named after her, and most recently having the Fed Cup team competition renamed the Billie Jean King Cup.
Billie Jean inspired me so much when I was growing up and it was a real highlight of my life to be able to meet her a few times and talk to her about her life and career.
She is so modest and more interested in other people than talking about herself and mostly, she is just so cool!