Greg's Review of "Sex and the City 2″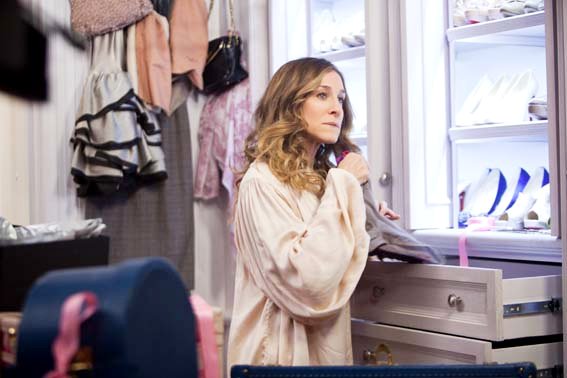 I'm sure glad I didn't read all of those scathing reviews of Sex and the City 2 before seeing it last night. The reviews would not have stopped me from going but they may have detracted from my giddy mood as I settled in with friends to catch up on the latest adventures of Carrie, Charlotte, Miranda, Samantha and the men in their lives.
We had a blast. It's not like a SATC fan can be impartial, we are so invested in these characters that we go with them wherever they are going – this time to United Arab Emirate of Abu Dhabi!
I'm not used to seeing the actresses on the big screen since they are usually the size of my TV screen but they are gorgeous. And the clothes, good grief.
Say what you will about the film's plot etc. but you gotta say that Sarah Jessica Parker is, as always, glorious as Carrie Bradshaw. Carrie is married to John Preston (aka Mr. Big) and into her 40s trying to navigate marriage and realizing that kids are not for her.
Big (Chris Noth) at one point says to her that as a couple, they are simply "too much" to expand their family. I like that they address this and that they make a decision that is right for them even if some people don't understand – or approve.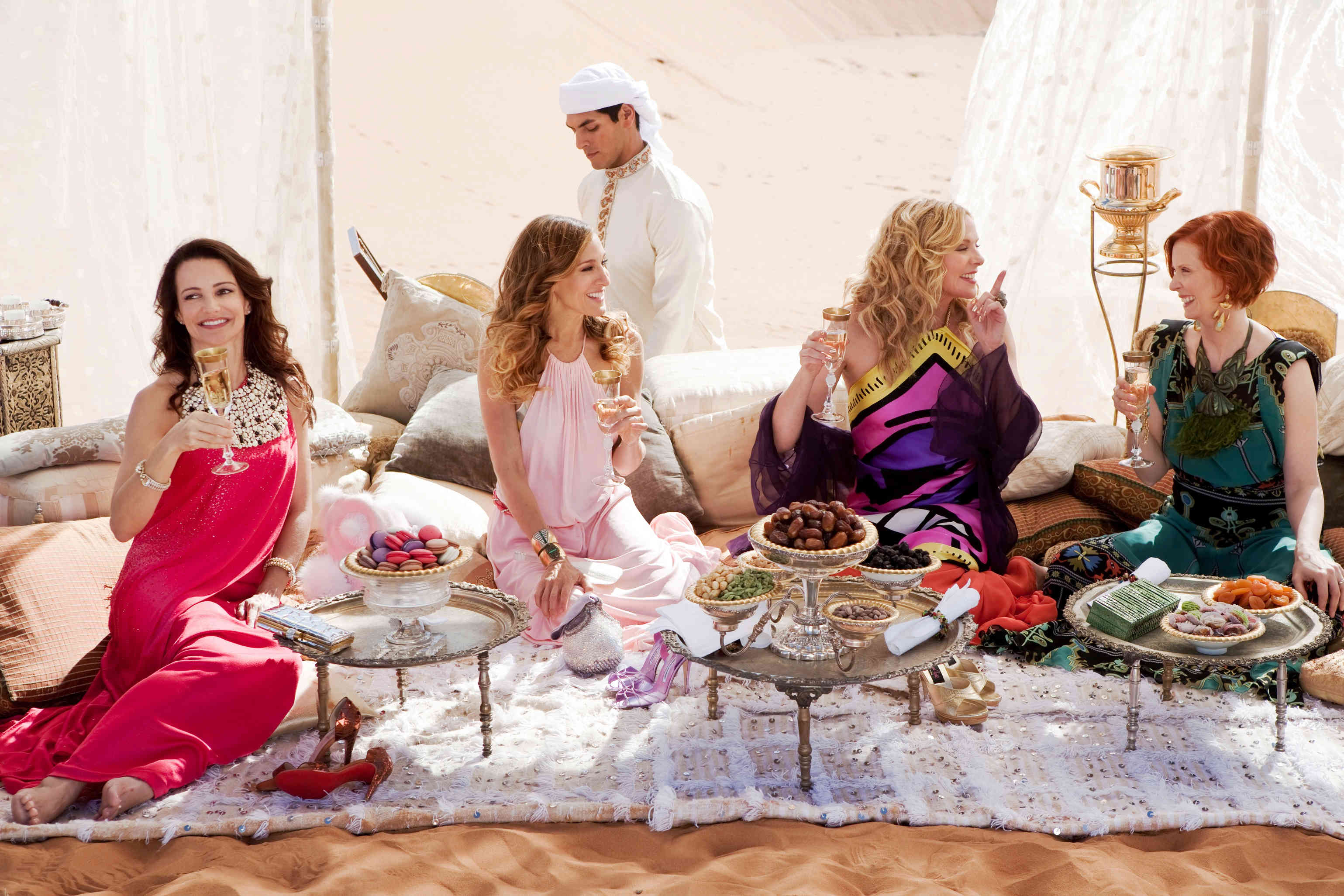 The four main characters are essential to any SATC outing but it's a no-brainer why the movies were held up until Kim Cattrall was ready to step back into the pumps of Samantha Jones. God, I love her. Samantha is my girl, she's what I aspire to be in my life as a gay man.
Samantha is still take-no-prisoners but this time around, she's fighting menopause big-time and this gives Cattrall some fun scenes to play. Past 50, she insists on looking and feeling good no matter how many vitamins and hormones she has to take. And when  a salesgirl remarks that the dress she picks out to wear to a movie premiere might be a little young for her, Samantha says emphatically: "I'm 50-fucking-2 and I'm gonna rock this dress!"
You go girl.
I love Samantha's wit when she's interacting with the girls and flirting and having sex with the men and making no apologies for it.
I'm so not tired of her horny schtick!
But beware, a big chunk of the film takes place in a Muslim country and Samantha's antics do not go over well with the locals.  She finds it awfully hard to reign it in and it gets her into some trouble in the end.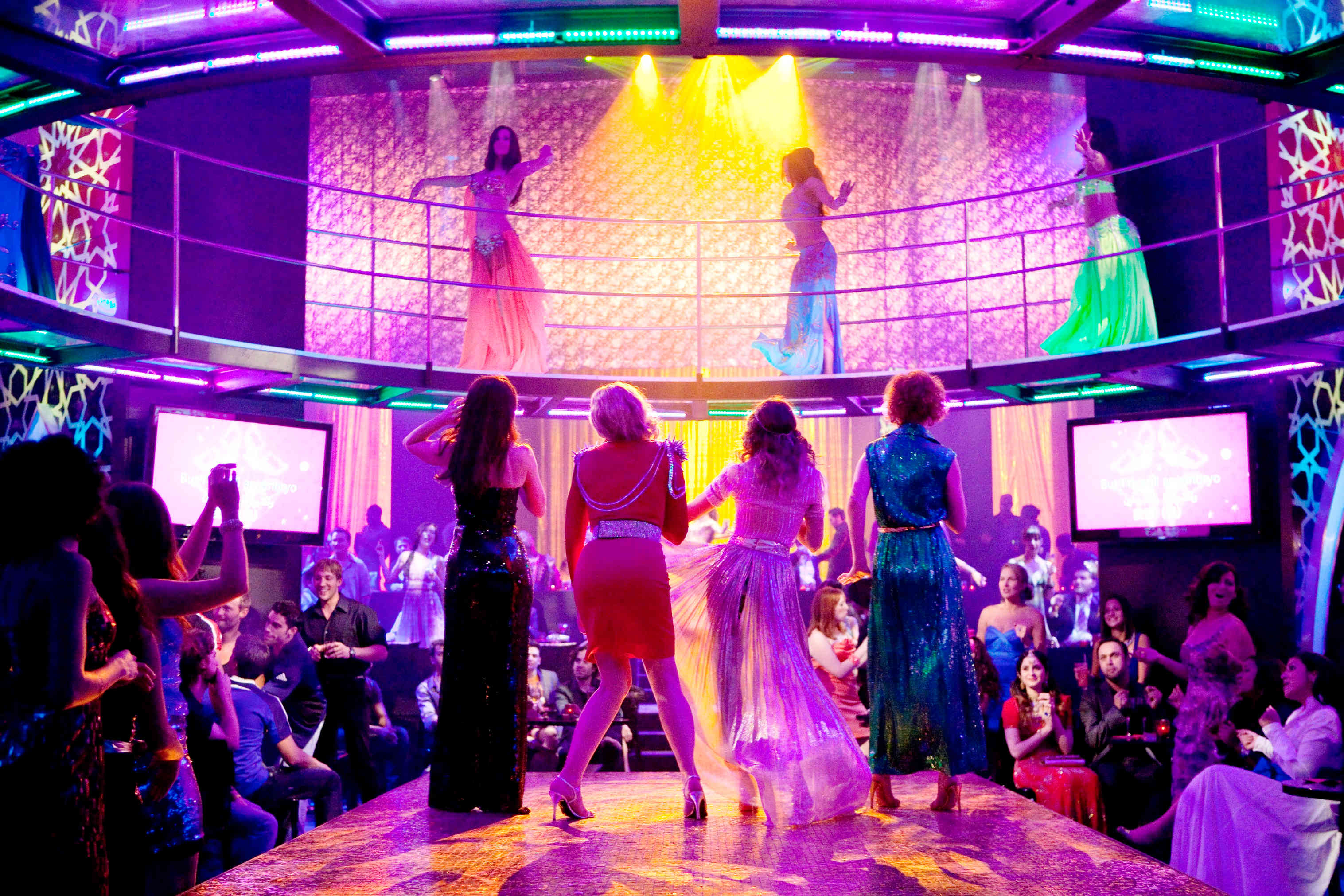 The film has a really fun feel-good female empowerment scene when the girls go out to a karaoke bar in Abu Dhabi and Miranda signs them up to sing I Am Woman, the Grammy-winning feminist anthem that was a number one hit for Helen Reddy in the early 70s.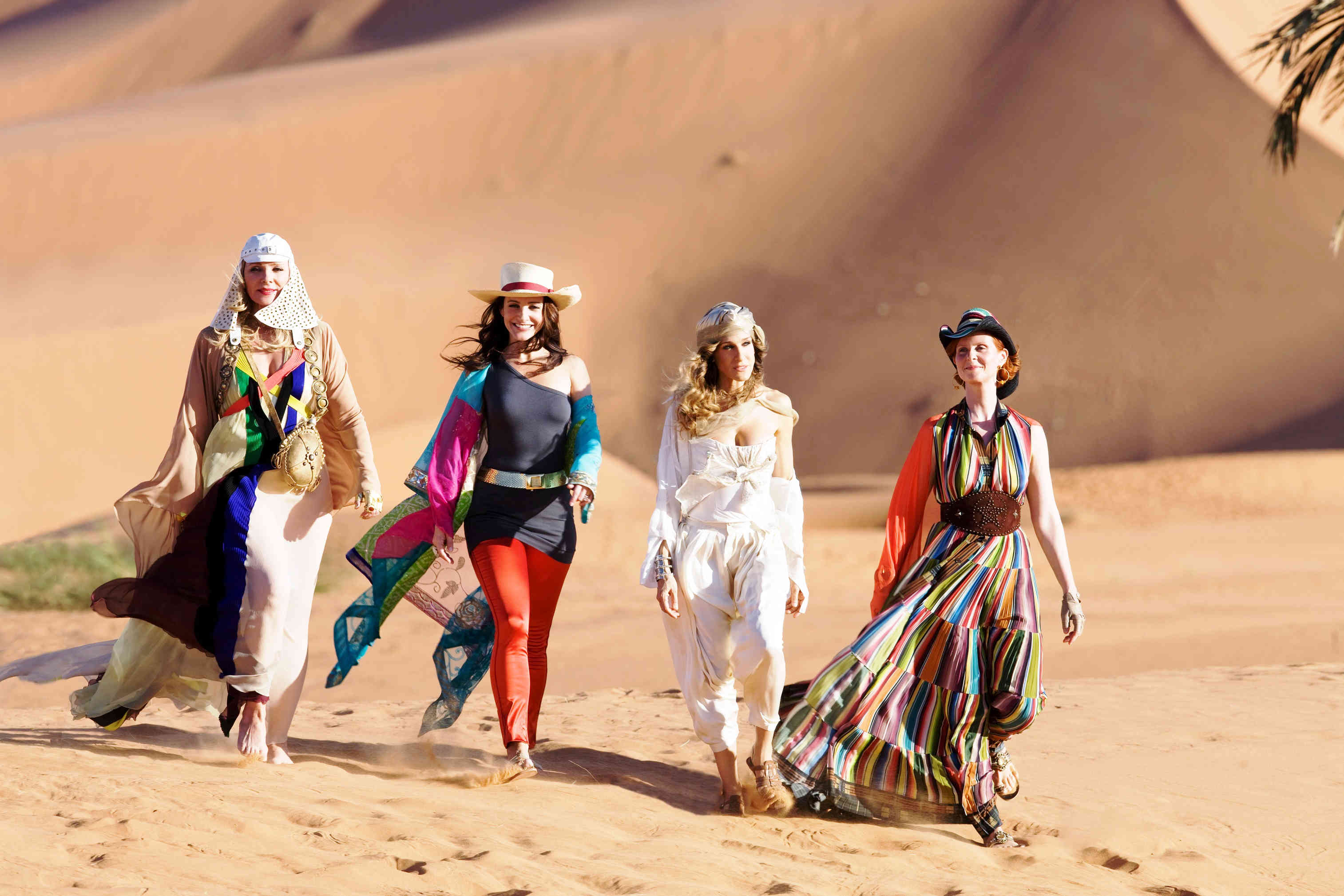 While Samantha is a mess without her hormones and vitamins (they were not allowed into the country), Charlotte is freaking out over leaving her hubby and daughters back in NYC with the braless nanny and Carrie is distracted by the appearance of Aidan (John Corbett) and a bad review for her book in The New Yorker, Miranda has done a lot of research on Abu Dhabi and planned several outings for the girls beyond shopping and eating. Here they are on their way to a camel ride.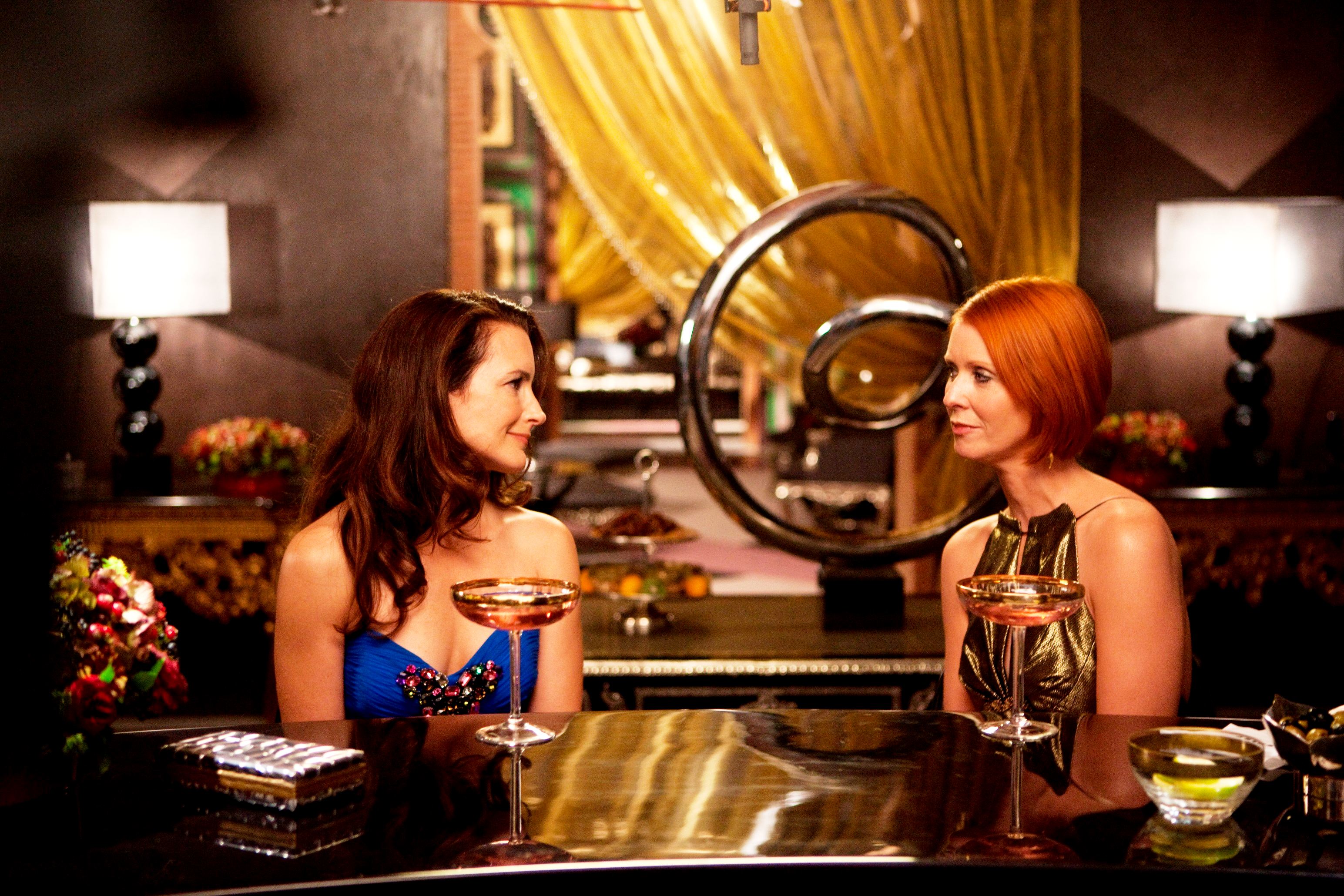 From the early days of the series, the one thing Charlotte York has always wanted was children. Now she has two and even though she has a supportive hubby and a nanny, she's finding it awfully tough to not have a meltdown – especially with the younger daughter on an endless crying jag. This heart-to-heart with fellow mom Miranda is one of my favorite scenes because it touches on the deep friendship between these women and how they are able to open up to each other – with the help of a little bit of booze!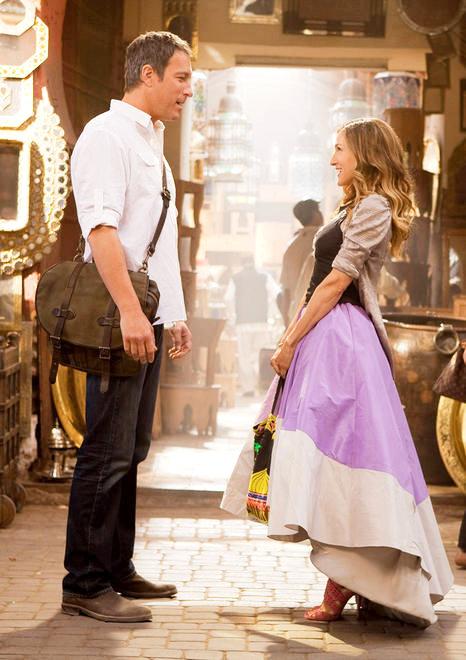 It's taken me a long time to realize that even though Aidan Shaw is my dream man, he's not Carrie's. I always felt like it was the biggest mistake of Carrie's life to let this sweet-natured, low-maintenance hunk of a man go – twice! But this movie revisits the relationship when Carrie and Aidan happen to bump into each other in Abu Dhabi. Their attraction to each other is undeniable but as we see Carrie in her life now, we realize that Aidan never would have been enough for her, would not have been able to keep her stimulated and interested. Heck, Big barely can!
If you are a fan of the show and of these characters, you'll have a good time. The first movie was better because the Carrie-Big wedding plot was a lot to deal with. But I consider this a fun middle movie in what I am certain  will at least be a trilogy.