Greg's Movie Madness: Thumbs up for "A Single Man," "It's Complicated" & "Up In The Air" but not "Nine"
I've been on a movie-going tear since Christmas Day thanks to a movie pass given to me by my best pal, James.
Let's start with the masterpiece that is A Single Man. It is beyond remarkable that this gorgeous film is the directorial debut for fashion designer Tom Ford.
The film is set in the early 60s and stars a never-better Colin Firth as closeted college professor George Falconer who is is so depressed over the death of Jim, his partner of 16 years (Matthew Goode) that he is planning to kill himself. We see him methodically preparing for this (taking care of paperwork, leaving notes for friends, cleaning out safety deposit box, buying bullets).
Along the way, he has some unexpected encounters with a student (Nicholas Hoult), fellow teachers (Lee Pace) and a gorgeous hustler (Jon Kortajarena). Some momentarily bring him back to life. Then there is a final dinner with his best friend Charlotte (or Charley) who is played to divine perfection by Julianne Moore.
The scenes between Firth and Moore are a real highlight as they run the gamut from dancing to fighting to reminiscing. Charley has always loved George and still seems to hold out hope that his being gay is a phase. She's infuriating in that moment! Moore is quite a vision with her 60s hair and clothes and make-up and her English accent is spot on.
As the young student Kenny, Hought's (pictured above) beautiful blue eyes star at George in a mesmerizing way and the young actor, now 20, shows us how nicely he has grown since appearing in About a Boy as a child actor.
Firth is a definite Oscar nominee for his portrayal and Moore really should get a supporting nod. We really feel like we are eavesdropping on what he plans as the last day of his life and we are rooting for him to somehow come out the other end and find a reason to want to keep living.
The movie would be strong with the acting alone but the beauty of the sets and the capturing of the 60s time period is a real achievement as are the use of flashbacks and dreams.
Based on the novel by Christopher Isherwood, we are also reminded of the secrecy gay men were forced to live in and the lack of common decency others showed them. George is informed of his lover's death only because a relative of Jim's had the heart to call him despite the wishes of Jim's parents who banned him from the funeral.
The fact that that can still happen nearly 50 years later is one of the many reasons for marriage equality.
I haven't seen Meryl Streep in a romantic comedy like this before. The closest would probably be Heartburn with Jack Nicholson but that was also sad.
In It's Complicated, Miss Streep is absolutely delicious as Jane, a restaurant owner and mother of three who has been divorced from her cheating ex-husband Jake (Alec Baldwin) for a decade. He's now married to the much-younger mistress. Then at their son's college graduation, Jane and Jake have too much wine with dinner and end up in bed together!
Jake confesses he still loves her. She's not so sure but can't resist his charms. Now Jane is the mistress! An affair ensues with all kinds of comic complications. My favorite is a lunchtime rendezvous at a hotel where their daughter (Caitlan Fitzgerald) and future son-in-law (John Krazinski) are dining. Krazninski is a SCREAM in this scene, his reactions and his near meltdown.
Adding to the fun and to the heart is Steve Martin's Adam, an architect who is designing Jane's ambitious home renovation. Streep and Baldwin are so good together that is is surprising that she and Martin also have a lovely chemistry – particularly in a party scene where they get stoned!
This really is Meryl's movie and she pulls it off beautifully from a visit to the plastic surgeon to her facial reactions to the delicious scenes with her girlfriends played by the fabulous trio of Mary Kay Place, Rita Wilson and Alexandra Wentworth.
The movie isn't as much about food as Streep's other 2009 hit Julie & Julia but there is plenty to make your mouth water – especially the chocolate croissants she makes for Martin.
It's no wonder Meryl will be competing against herself at the Golden Globes later this month!
Up in the Air is a terrific movie that seems tailor-made for George Clooney and he does not disappoint as Ryan Bingham, a seemingly soulless man whose job it is to travel around the country firing people.
But going in, I didn't realize that he would be getting magnificent support from two very talented actresses who play women who change his outlook: Vera Farmiga and Anna Kendrick.
Before I talk about the actors though, kudos to filmmaker Jason Reitman for the use of real-life laid off workers in the scenes where people are being laid off. If I had not lost my job last year, I'm sure those scenes would not have resonated as much but they really did.
At least Ryan tries to appear sensitive when he's firing people. Enter the young and arrogant Natalie (Kendricks) who we hate from the start. She has devised a way to save the company travel money by firing people via computer screen! It's like fired via Skype! This will seriously alter Ryan's life out of a suitcase, a lifestyle he has perfected and quite likes.
Natalie goes on the road with Ryan to learn the ropes and at one stop, they meet up with the lovely Alex (Formiga), who seems to be the female counterpart of Ryan. Miss Formiga is so appealing, so stunning that for a minute there, I wanted her to be my girlfriend.
Ryan goes through a real transition that also involved reconnecting with his sisters and by the end of the movie, you really hope he will find his happiness.
Clooney, Formiga and Kendricks all received Screen Actors Guild, Golden Globe and Broadcast Critics nominations for their performances and are shoo-ins for Oscar nods as is Reitman and the film itself.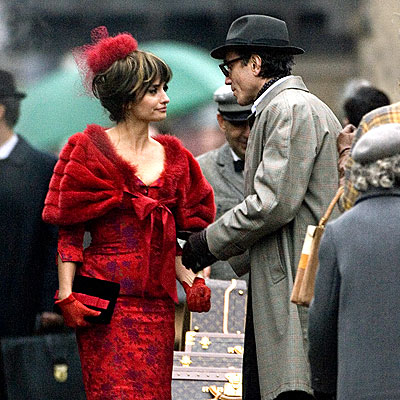 It seemed like the perfect movie for me. A musical directed by Rob Marshall and stars like Oscar winners Daniel Day-Lewis, Nicole Kidman, Penelope Cruz, Marion Cottliard, Judi Dench and Sophia Loren.
But a little more than halfway into Nine, I found myself trying to figure out which actresses had not had their big number yet. I guess I kinda wanted it to be over.
That doesn't mean that Nine does not have its highlights and its delights. Day-Lewis is first-rate as Italian film director Guido Contini who is on the verge of a breakdown as he is about to start a new film – with no script. Then there is the drama involved in his relationships with his mistress (Cruz), his wife (Cottliard), his muse (Kidman), his mother (Loren), and his costumer (Dench) as well as a fashion reporter (Kate Hudson) and the childhood memory of a prostitute (Fergie).
Day-Lewis and each actress have a big musical number and some work while some do not. Hudson is a real surprise as far as her singing and dancing abilities while Kidman lives up to what we expect of her after doing Moulin Rouge. Cottliard breaks your heart in her scenes but the real powerhouse here is Cruz who, I think, will be the one actress certain to get an Oscar nod although Cottliard could as well.
There's a lot of talent on the screen, some beautful Italian locations and some good musicals numbers but the movie only made me feel anything when Cruz or Cottliard were sharing scenes with Day-Lewis.
Well, that's it for now. I'm off to another movie!