Greg In Hollywood's Q&A with Bryan Batt
It's always such a pleasure to talk to Bryan Batt, who recently appeared in the final two episodes of Ugly Betty as a possible love interest for Marc (Michael Urie) and was revealed to be the long-lost father of Amanda (Becki Newton).
Bryan was a member of the cast of the Emmy winning A&E series Mad Men but his character was written out midway through last season – much to the disappointment of his many fans.
But he's a showbiz veteran of stage and screen who will no doubt resurface in a quality project soon.
Here is my interview with Bryan conducted on the red carpet of the GLAAD Media Awards in LA:
Q. Loved you on Ugly Betty. What was that experience like for you?
A. It was so great, so lovely. They were so welcoming. In fact, one day after shooting I went to see Michael [Urie] in his play The Tempermentals that he is brilliant in.
Q. He's out now.
A. He was always out.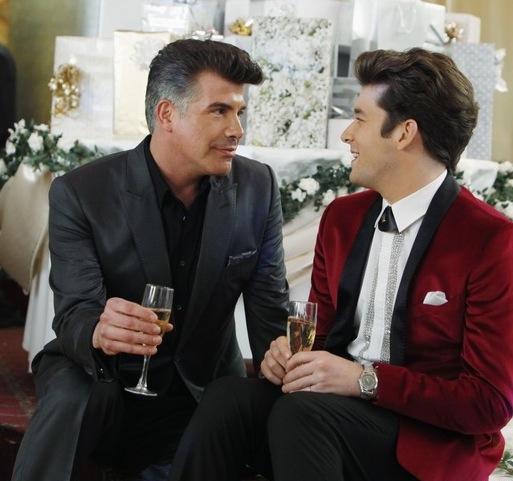 Q. But he didn't want to talk about it.
A. I understand. He's young, very young. Everyone's journey's different, I don't believe in forcing anything. It was when it felt right, when he felt good and he felt comfortable. I'm proud if him."
Q. What did you think of the whole Justin coming out storyline of Ugly Betty? You were at the wedding where he danced with his boyfriend.
A. Wasn't that great? I thought it was beautiful, the most beautiful way to tell that story. I love how no one [at the wedding] had a problem with it, everyone just smiled.
Q. Did you ever think you'd see something like that on network television?
A. No. Well you know what, I did. I knew that down the line it would happen, I'm glad I'm alive to see it.
Q. You're tearing up a little bit just talking about it.
A. Yeah, I am. I just think about all these kids who can't go to their prom just because of who they are, just because of the way God made them. You have people who are claiming to be Christian and loving and yet they are the antithesis of it by not supporting them."
Q. So many of these kids seem so brave, certainly a lot more brave than I was.
A. Oh my God, I'm so proud of them. I'm so proud. They have balls of steel, it's so fantastic. This younger generation, they don't care [if someone is gay], most of them don't care. Some of them are being taught the prejudice by their families or their parents but I believe for the most part, it's not an issue.