Greg In Hollywood talks to Sara Rue talks about marriage equality and her weight loss on Jenny Craig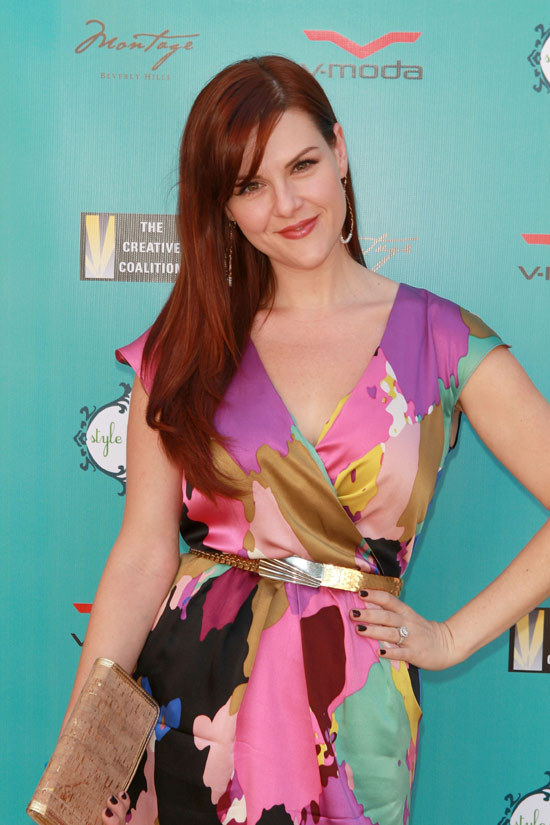 Remember when Sara Rue starred in the ABC sitcom Less Than Perfect?
Well, I say her at last night's Macys Passport Glamorama event in downtown LA and she is looking darned perfect after dropping 50 pounds on the Jenny Craig program.
I've been a big fan of Sara's since Popular and was glad to find out that she stays in touch with some of her former castmates: "A few of us do. I'm actually supposed to see Chris Gorham later tonight." She does watch Gorham's new hit Covert Affairs and says that "I'm very proud of him."
So how does she feel about the new series of Jenny Craig commercials that show off her stunning weight loss?

"It's great," she said. "I'm really proud of myself, it was a really good experience doing the whole program so I'm glad people are getting to see my hard work. I saw a rough cut of the ads and I thought they turned out great."
Sara told me she is set to host CW's midseason reality series Shedding for the Wedding, a weight-loss show that has 10 overweight couples live together and battle during a three-month period for the wedding of their dreams. The couple that loses the least amount of combined weight at the end of each episode is sent home.
I asked her if any gay couples were participating: "They were allowed but we didn't get anybody to sign up!"
Sara is a staunch supporter of LGBT equality: "I just did my No H8 campaign shoot the other day."
Does she think same-sex marriage will be legal on a federal level sooner than later?
"I think we're close, I really do. It's been so crazy to me that it's still an issue. It seems so obvious to me that everybody should be allowed to be with the person they love and to call it whatever the hell they want. There are better things in the world to argue about. I hope that finally we'll take care of that and then we can all go to fabulous gay weddings. It's stopping fun parties from happening."
Don't ya just love this girl?