Greg In Hollywood chats w/Chandler Massey of "Days of Our Lives" about his Emmy nod and whether Will Horton is gay
Enjoyed having lunch last week with actor
Chandler Massey
who plays Will Horton on NBC's
Days of Our Lives.
He's a well-mannered 20-year-old who had just completed his first quarter at UCLA when he was tapped for the soap role which he began in early 2010. Chandler has made a big impression in a short time earning a Daytime Emmy nomination for outstanding younger actor in a daytime drama.
"Just to be nominated is such an honor," he said. "I'm very happy. As long as I'm doing good work and if I feel proud of the work that I did, that's the biggest reward."
He is taking is mom as his date to the June 19 ceremony at the Las Vegas Hilton ("I promised her the first time I got nominated for something I'd take her") and his dad is coming out too ("But I think he's coming out just to be in Vegas and using the Daytime Emmy Awards as an excuse.").
"I'm very much looking forward to it and I think it's going to be a lot of fun regardless of what happens," he said.
How would he describe Will Horton?
"Will is an old soul which I guess isn't too different from me. I feel like I'm an old soul," Chandler said. "Will is the kid who had to grow up too fast. His mom has made some interesting choices in her life and I think because of all the things that happened to him while he was growing up, he really has become like the rock of his family, the voice of reason. I really enjoy playing Will because he's just a generally good guy and if you can make that interesting, I think you're doing something right."
Okay, so let's get to what you really want to know about: Is Chandler's soap character going to come out as gay?
Here's that portion of our conversation:
Q. Everyone is buzzing about Will's storyline and how he might come out. Can you comment?
A. I've been reading about some of that stuff too. Honestly, the actors are the last to know. I'm just as in the dark as anyone else. So I really, I don't know."
Q. Is it fun to have people speculating on the Internet and wondering what your character's going to do next?
A. I guess so. It's exciting. The possibility of that storyline obviously is very exciting to me.
Q. It's not something you would have an issue with playing?
A. Oh no. It'd be fun. It obviously would be very challenging on a creative level.
Q. If it happens, there are some very famous gay teen storylines in soaps in the past including Ryan Phillippe's Billy on One Life to Live and Luke on As the World Turns played by Van Hansis. You'd be in good company.
A. I guess there was a time in the past when people would have been wary. But I feel like now it's almost like empowering for a straight guy to play a gay character. It's great because all these boundaries are being kind of shattered.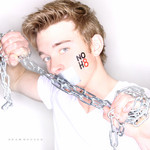 Q. You also did the NoH8 campaign in support of gay marriage. What made you decide to get involved and make your support known.
A. I'm definitely in support of that cause and of people being able to fall in love and get married to whoever they want.
Q. You're from Georgia, was that how people felt in your high school?
A. Actually growing up there was a group of six guys and throughout high school, three of the guys came out. In our group of friends, it didn't matter but there were some people that weren't so accepting.
Q. Are you still in touch?
A. Absolutely.
Q. Did you just grow up in a progressive household where your parents were cool and open-minded?
A. Fortunately both my parents are very open-minded and taught myself and my siblings to be so.
Tomorrow: Part 2 of my interview with Chandler Massey. How he got his start in acting and how he keeps in such great shape.