Friday Morning Man: Max Ryan!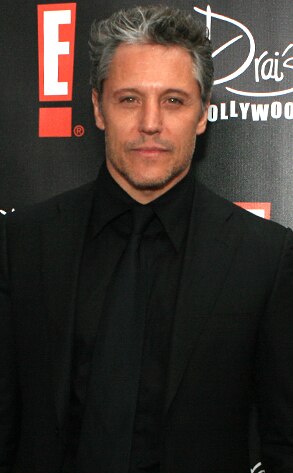 When Max Ryan first appeared on the screen during Sex and the City 2 last night, my friend Lorna turned to me and said, "I think we have a Morning Man!"
We so do!
The British actor plays Samantha's latest paramour in the flick and he is sizzling! His final scene requires no wardrobe and he reveals a hall of fame rear end! Must be seen to be believed.
Earlier this month, Max was hospitalized with broken ribs and cracked collarbone after a motorcycle crash but recovered enough to attend the premieres of the film.
I love an interview he did TVGuide.com in which he admits to crying when he watched the first Sex and the City film: "I was like, I've got to see what this is about. I need to know what I'm doing. I watched the movie and I was emotionally touched. I actually cried a bit. It's quite embarrassing but I did. I was happy, I was sad, and I was like, 'Whoa, this is really good.'"
Despite having never seen the TV series, the 43-year-old actor won the role of architect Rikard Spirit in the franchise's sequel, which opened last night.
"My character has some tremendous moments that will be remembered," Ryan teased. "It's the first chance that I've actually played myself in a movie, obviously delivering the lines of a character, but it's still the essence of me."
Ryan, whose previous films include Death Race, The League of Extraordinary Gentlemen and Kiss of the Dragon says he got the part with a little help from his new leading lady, Kim Cattrall, who recommended him to writer-director-executive producer Michael Patrick King.
"I did the first scene and Kim turned to Michael and said, 'I really don't need to see any more.' I was like, 'She's so right, Michael,'" Ryan said. "I think she played a massive, massive part in me getting this. You've got to have a connection. … With her it's just very cool, very low key, but still I was turning over inside, for sure."