Federer ousted from Wimbledon by inspired Tsonga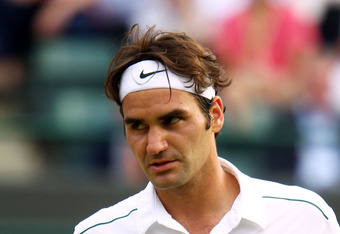 Roger Federer
had never before lost a match after winning the first two sets. It happened earlier today at Wimbledon when the six-time champion lost to
Jo-Wilfried Tsonga
in the quarterfinals 3-6, 6-7 (3-7), 6-4, 6-4, 6-4.
It is very disappointing to Federer's legion of fans including my pal Henry who was at Centre Court today watching the match in person.
The consensus is that Federer played well throughout but could not break Tsonga's powerful serve in the last three sets.
"Except the score, many many things went right," Federer told reporters after the match. "I thought I played a good match myself. I'm actually pretty pleased with my performance today. It's kind of hard going out of the tournament that way, but unfortunately it does happen sometimes."
Federer will be missed at the tournament heads into the semifinals. There is still plenty of intrigue: Will Novak Djokovic be able to beat Tsonga and ascend to number one in the world for the first time? He overtakes Rafael Nadal if he reaches the final. Will Nadal win his third Wimbledon in the last four years and 11th grand slam title overall? And most dramatically, will Britain's Andy Murray make the dreams of a nation come true by becoming the first British man to win the home tournament in more than 70 years?
I'll be watching!