Equal rights pioneer and tennis legend Billie Jean King to receive Presidential Medal of Freedom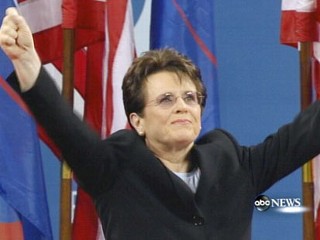 I Used to wonder if Billie Jean King really knew how much her life and work had meant to so many people.
I'm not just talking about the tennis titles although she is one of the greatest players in history. I'm talking about her incredible spirit and energy and determination to make the world not just a better place, but a fairer place.
Well, I think if she didn't know before how appreciated she is, Billie Jean is getting a pretty good idea now. It was announced earlier today that she will receive the Presidential Medal of Freedom on Aug. 12 from President Barack Obama along with Sen. Ted Kennedy, the late Harvey Milk, actor Sidney Poitier, Broadway legend Chita Rivera and 11 others being honored for being "agents of change."
The 16 individuals that will be given America's highest civilian honor were chosen because they have "changed the world for the better" and set "a standard to which we all should strive," the president said in a statement. "These outstanding men and women represent an incredible diversity of backgrounds. Each saw an imperfect world and set about improving it, often overcoming great obstacles along the way."
It's so well-deserved for Billie Jean and, I think, ranks right up there with when the United States Tennis Center in Flushing Meadows was named after her.
If you know her mainly from her famous battle of the sexes match with Bobby Riggs, then you don't know enough!
While she was the number one player in the world, she led the battle for equal prize money and for Title IX which required parity for girls sports in school. She also formed the women's tennis tour that still exists today as well as the Women's Tennis Association, the Women's Sports Foundation and World Team Tennis.
Billie Jean did all this while winning a record 20 Wimbledon titles (six in singles). She also won four US Opens,  a French Open and an Australian Open making her one of just a handful of female players to have won the sports four grand slam titles in their career.
These are lasting legacies and since coming out as a lesbian a few decades ago, Billie Jean has been vocal on the LGBT front as well and helped raise millions of dollars for AIDS charities.
Billie Jean inspired me so much when I was growing up and it was a real highlight of my life to be able to meet her a few times and talk to her about her life and career.
She is so modest and more interested in other people than talking about herself. But she will hopefully take a moment to stop and reflect on this great honor and her place in history.