Ellen DeGeneres talks to Ryan Seacrest about being new "Idol" judge: "I Hope Paula Is OK With It"
New American Idol judge Ellen DeGeneres told Ryan Seacrest on his morning radio show today that she was "shocked" about Paula Abdul not returning for the ninth season.
Ellen called former judge Paula Abdul a "huge part of the show" and said she was "part of the American Idol family". Ellen said she was "surprised and sad" about Paula leaving and that her departure leaves a "hole that needs to be filled. I didn't think it would be me. I hope Paula is OK with it."
UPDATE: Paula appears to be OK with it, publicly at least, and has released this statement to ET.com: "'American Idol' is a fantastic show that offers an invaluable platform to young talent. Ellen DeGeneres is wildly funny and talented in her own right. I wish her and the show only the best of luck."
Ellen had been negotiating for the gig for a few weeks and described what she thinks her judging style will be: "Going to have fun, be very honest, honest in a kind way. I'm going to be the compassionate person."
Some complain that Ellen does not have experience in the music industry.
"First of all, I love music, period," she told Ryan. "I've always loved music. And I'm a huge fan of the show; I haven't missed a show since season one. I'm just a fan like everyone else. The people are the ones who choose the American Idol. It doesn't come down to a music expert ultimately."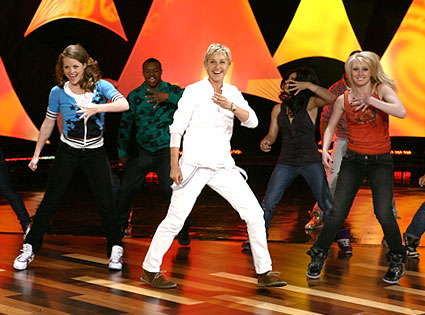 Fellow host Randy Jackson is  happy to be welcoming Ellen to the fold and said in an interview: "I think she brings the voice of the people. Sometimes when we judge, we hear ourselves talk and we're very inside the music … I like to look at it like Ellen is coming home. Welcome home, Ellen! This is American Idol, come on! It's her home. It's gonna be hot! We're gonna have a good time."
Former Idol produer Nigel Lythgoe also weighed in with a statement: "I was just as surprised as anybody to hear that Ellen would be joining the Idol judging panel – pleasantly surprised. Ellen was just a guest judge on So You Think You Can Dance and she was excellent. Prior to that, she hosted Idol Gives Back for us in 2007. Each time, audiences loved her – she "gets" people, really connects and keeps them laughing. It's no secret that music and dance can break down barriers and bring people together. Add some comedy to the mix and you have a winning formula. We saw it in the banter between Simon [Cowell] and Ryan [Seacrest] and now I have no doubt we will see more of it with Ellen. No one will ever replace Paula, she will always be part of the original American Idol family – the history behind the magic. Now, I will be watching, along with the rest of the world, to see what new magic Ellen will bring to the show."