Dixie Chicks' Martie Maguire talks about moonlighting, lesbian following, Cher, and Reba McIntire
Martie Maguire — one-half of the Court Yard Hounds and one-third of the Dixie Chicks — talks to Out.com about juggling her two bands. Hounds opens for The Eagles this summer but stresses that Dixie Chicks remains together.
The group has been through a lot since lead vocalist, Natalie Maines, told an audience: "Just so you know, we're on the good side with y'all. We do not want this war, this violence, and we're ashamed that the president of the United States is from Texas."
Maines's words sent shock waves through the conservative country music community and the group was boycotted, dropped by sponsors, and fellow artists turned their noses up at the mention of their name.
So much for free speech!
But the group came back strong winning Grammys for their comeback album and in the process, gained a whole new fan base, including the LGBT community who admired their moxie and echoed Maines's sentiments about President Bush and the war.
Here is a portion of Martie's OUT interview:
Out: Before we talk about anything else, we need to talk about the song "Ain't No Son." Were you concerned about releasing a song about a gay teenager? How do you think country music fans are going to respond?
Martie Maguire: I really don't have a gauge on what the country music industry is anymore. After we had our controversy with them, I guess I just felt like I was the redheaded stepchild and kicked out of the inner family of that genre.
Looking back now, how do you feel country music insiders responded to Natalie's comment about President Bush and the war?
After the documentary [Shut Up & Sing] came out and the Grammys, you could almost look out into the audience and see the country faces that so wished you hadn't won the Grammy.
Like who?
Reba McEntire. She wouldn't even clap. Then the camera panned to her, so she mustered a little applause for the camera. That was actually captured on the telecast. She's been outwardly critical of us. Some of it has been poking fun and that's fine, because we have been the butt of jokes. However, some of it, and not just Reba in particular, was pretty harsh. I think Natalie, as strong as she is, was really affected. She just got tired of everyone being in her face. It really haunted her for a while, and she feels free from that now.
Didn't Cher help you overcome your worries about turning 40?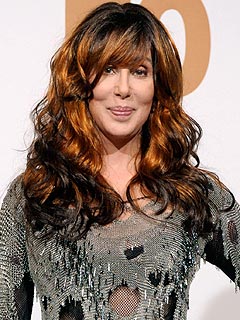 She almost brought me to tears. My birthday wish was to go see her in Vegas. I've got a few connections, so I was able to go back and meet her. I've been a fan for so long. Meeting her face to face was such a thrill. She could tell I was kind of down and when she said, "OK, who is turning 40?" I said, "A reluctant me." She took me by the hand and walked me into the back hallway. She talked to me for about five minutes, which seemed like an hour, about how she felt a psychic premonition that I was going to have the best year of my life. She said it was the best year of her life. She referred to meeting the love of her life and making two of her favorite movies she ever made. That was life-changing for me. I felt like I had a whole new outlook after that.
Emily always says that you get all the girls? Why do you think you're a "chick" magnet?
I always say that I wink at them. Maybe I appeal. I don't know. It would just turn out that I would have the female, gay following migrate to my side of the stage.