"Designing Women" Thursday: When Kim Zimmer guest-starred as Charlene's battered cousin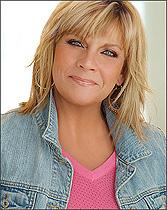 The ladies are going to perform in a Motown review and Charlene gets her cousin Mavis (Kim Zimmer) to teach them some dance moves.
But while at Mavis's house, Charlene (Jean Smart) witnesses her cousin's husband verbally abusing her and the next day, Mavis shows up at the design firm with a black eye.
The show often tackled serious issues and used the opportunity to share some statistics from Mary Jo (Annie Potts) or Julia (Dixie Carter) who are always reading one article or another.
But the episode is not without laughs. Suzanne (Delta Burke) insists of being one of the Supremes in black face so Julia bans her from the stage.
Suzanne muscles her way on anyway.
Enjoy!