Countdown to Outfest 2010: "Violet Tendencies" gives "Facts of Life" alum Mindy Cohn a terrific screen role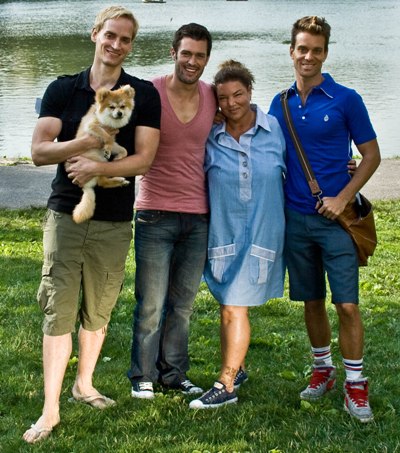 I'm starting to watch some of the Outfest movies that will be screening at this year's festival which kicks off July 8.
Last night, after watching back-to-back episodes of Hell's Kitchen (I just can't quit that damned show!), I slipped Violet Tendencies into the DVD player and hoped the for the best.
The movie is directed by Casper Andreas from a screenplay by Jesse Archer in what is their third film together. Both have roles in the film but the star, thankfully, is the marvelous Mindy Cohn who shines in just about any scene she's in.
Mindy is Violet, the self-described "fag hag" who is loved by her circle of gay friends in New York City but lonely for a man of her own.
"I turn 40 this year. 40! I'm the oldest living fag hag," she says at one point. "All my life I've been a fruit fly, fag hag, queen mother."
Declaring that "this fruit fly is finished!" Violet becomes scarce to her friends to date. Her attempts are bumpy as she tries to meet dudes via something called "Frisky Friends," describing herself to one potential suitor this way: "I'm a simple girl from Idaho … my face is rural too. I have an ample bosom and, well, my body is kind of ample."
Cohn still has that same screen charm she had on The Facts of Life as Natalie but she is a far better actress now. She makes you root for Violet to find happiness but not to change too much because you like her so much the way she is even if she does, for some reason, dress as a cat one night.
I thought it was rather sweet when her friends stage an intervention at Central Park but I have to confess, I didn't really care about them that much. Riley (Samuel Whitten) is the most fleshed-out as Violet's co-worker, a model-turned clothing designer whose writer husband (Casper Andreas) wants babies.
The film is also blessed by a very funny performance by Kim Allen as Violet's co-worker who thinks she knows all their is to know about landing a man and takes Violet under her wing. Although she may look like a million bucks, she's even more screwed up than Violet!
Violet Tendencies will screen on Saturday, July 10 at 9:45 p.m. at DGA 1. MORE INFO