Conan O'Brien in "60 Minutes" interview excerpt says he would not have done what Jay Leno did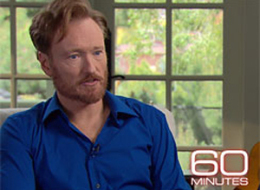 It sounds like
Conan O'Brien
is going to be quite candid in his
60 Minutes
interview with
Steve Croft
scheduled to air on Sunday.
The former host of The Tonight Show says that if he had been in Jay Leno's position, he would have "done something else, go someplace else."
"I mean, that's just me," he said.
Conan succeeded Leno as host of the late night franchise for just seven months when NBC canceled Leno's prime-time show to move him back to late night where he had reigned for 17 years.
"He went and took that show back and I think in a similar situation, if roles had been reversed, I know– I know me, I wouldn't have done that," Conan told Kroft. "If I had surrendered 'The Tonight Show' and handed it over to somebody publicly and wished them well– and then…six months later. But that's me, you know. Everyone's got their own, you know, way of doing things."
Conan said he decided to leave NBC altogether and not accept their offer of following Leno in late-night because he felt the relationship had turned toxic and "I started to feel that I'm not sure these people even really want me here."
The redheaded funnyman is poised to return to the airwaves in the fall with a nightly show on TBS.