Naked in Nebraska: Paul Donahoe tells his story of how an NCAA champion wrestler ended up posing for a gay porn site
If they were not so damned cute would I care so much about those former University of Nebraska wrestlers who got kicked off the team for posing for a gay porn site?
Probably not!
ESPN will air a story on the controversy Sunday morning on its Outside the Lines show at 9 a.m. (clips below)
Paul Donahoe as you can see is especially quite the hottie. He rebounded quickly by transferring from Nebraska to Edinboro where he finished as the runner-up in the NCAA championships which he had won a year earlier.
A written online version of the story explore Donahoe's other troubles at Nebraska but it seems clear to me that if the site he poased for had not been gay porn, he would have finished his wrestling career at Nebraska.
"I guess the university was worried about their image. And me posing on a homosexual Web site — I guess they don't want that image," he says.
Donahoe says he is straight, as does the other wrester who posed nude, Kenny Jordan. Donahoe suggests the mere association with a gay Web site was too much to handle for the university — and especially for the university's athletic director Tom Osborne, a devout Christian and former Republican congressman.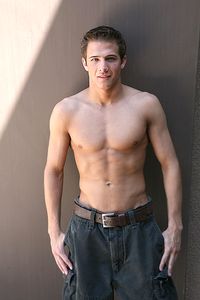 "I didn't hurt anyone, and I didn't do anything illegal. … I mean, it's not illegal to get naked and take pictures," he says.
At the time he was finally kicked off the team, Donahoe was already under suspension for another NCAA violation, this one coming after he and a few other wrestlers sold the iPods they received as official gifts at the Big 12 tournament.
"I don't really get into trouble that much," Donahoe says. "I mean, I sold an iPod, I had a party at my house and I took naked photos. I mean, other than that, I tend to stay out of trouble."
Here are some portions of the ESPN story that airs this weekend: