CNN's Anderson Cooper has another New Year's Eve date with wild and crazy Kathy Griffin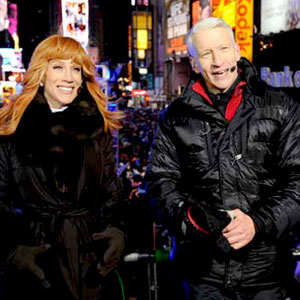 Don't know about you, but I would rather watch paint dry than see Ryan Seacrest host ABC's New Year's Rockin' Eve.
Ryan is cute and good at what he does but I want some laughs and some chemistry and over at CNN, the team of Anderson Cooper and Kathy Griffin absolutely has it in spades.
It has just been announced that the suave Silver Fox and the wild and crazy redhead and Anderson said in a statement: "Once again, I'm terrified to be co-hosting CNN's New Year's Eve show with Kathy Griffin. It's often bitterly cold, and yet after being with her for a few minutes on live television, I find myself drenched in sweat."
Hmmm. Could he be talking about what happened in 2008 when Kathy, throwing to a commercial, responded to a Times Square heckler by yelling, "I don't go to your job and knock the d—s out of your mouth."
Last year, she dropped an F-bomb live on air while trying to pronounce the last name of the "Balloon boy" family.
The delightful pair will be live from Times Square from starting on Friday, Dec. 31 at 11 p.m. to 12:30 a.m. (ET) on Saturday, Jan. 1.