Chaz Bono talks about his girlfiend's support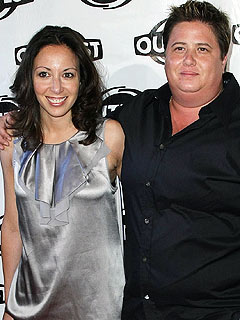 Barbara Walters must be gnashing her teeth that Mary Hart landed the first interview with Chaz Bono since he made public his decision to live his life as a man.
Barbara, after all, is not only the queen of these kinds of "gets," she also won several aswards, includiing one from GLAAD, for her superb report on transgender children a few years back.
Anyway, Chaz talked to Mary about her relationship with her girlfriend of four years Jennifer Elia.

"She's been amazing," says Chaz of Jennifer's support. "I feel really grateful to be going through this with a partner."
Chaz says Jennifer knew about his intentions from the beginning: "I didn't just spring this on Jennifer recently. This was something she knew about shortly after we met. … Our relationship always modeled a heterosexual relationship, emotionally and intellectually. So now it does physically as well."
EARLIER POSTS: