Carrie Fisher talks about her HBO special and Travolta's sexuality: "Look, I'm sorry that he's uncomfortable with it, and that's all I can say."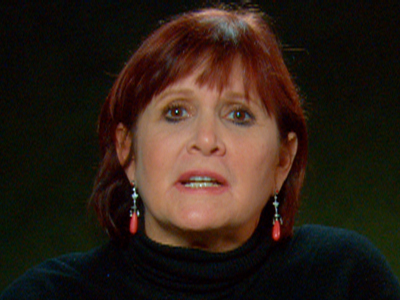 Does Princess Leia out Vinnie Barbarino in a new interview with The Advocate?
You be the judge!
Carrie Fisher, whose HBO special Wishful Drinking premieres on Sunday, chats with Brandon Voss about a host of things but here is the part of the Q&A that is getting everybody's attention today:
ADV: In the September 2009 issue of Out, you participated in their monthly "Can I Be Blunt?" column by sharing 10 things that gay men should know about straight women. One of those things was, "We don't really care that John Travolta is gay." I know you and Travolta go way back, so let's get really blunt here: Does his legal team have any business demanding Gawker remove a recent post suggesting that he's given blow jobs?
CF: Wow! I mean, my feeling about John has always been that we know and we don't care. Look, I'm sorry that he's uncomfortable with it, and that's all I can say. It only draws more attention to it when you make that kind of legal fuss. Just leave it be.
More tidbits:
ADV: When explaining that your ex-husband (CAA superagent Bryan Lourd) once blamed your codeine abuse on pushing him toward other men, you joke in Wishful Drinking that you have the power to turn men gay. These are funny quips, but they've also turned into headlines that some readers make take seriously. So just to clarify for those who believe that being gay is a choice, do you and Bryan know that he was always gay and that you had nothing to do with it?
CF: Well, we don't talk about it much, but yes, I should think that he was always gay and probably always knew it. I can only really talk about my part of it, up to a point, but he's been a very good father — and mother — to Billie.
ADV: I've read that you've felt haunted by [gay friend R. Gregory Stevens] ghost. I'd think a gay ghost would be pretty fabulous to have lurking around.
CF: No, it wasn't a bad thing. It was amusing. Things started to go off in my house. You know those little boxes that you push the buttons and they go, "Fuck you," "Eat shit," "You're an asshole"? I had one of those, and it would start to go off, on its own, in the middle of the night. So if that wasn't Greg… I mean, I don't think it was [past resident of my Beverly Hills home] Edith Head, do you?
The audiences at your Broadway show were always packed with gay fans. Were you at all surprised by that support?
Oh, no. You guys better be supportive because I've spent my life with you. My mother's whole nightclub act had gay backup dancers. When I was 13 and started doing my mother's show, I was with them all the time. I got my first kiss from a gay man. And second. And third.