Breaking News: Judge rules that same-sex marriages can resume in California next week! [Updated]
How can anyone who believes in love be anything but overjoyed by this news: US District Judge Vaughn Walker today lifted the temporary stay in the Prop. 8. case, paving the way for same-sex couples to begin marrying as of August 18.
Couples had already begun lining up at city halls and courthouses across the state to apply for marriage licenses.
Now they can firm up their plans to exchange vows and to celebrate after! Let the champagne (or the Martinellis) flow!
My friend Ted Johnson writes on his Wilshire & Washington blog:
Walker's order does give supporters of California's same-sex marriage ban time to appeal his decision, so it is still uncertain whether ceremonies will actually begin on that date. The proponents have vowed to take this aspect of the case to the Supreme Court if necessary.
However in his 11-page order, Walker raised doubts that the proponents will even have standing to appeal.
One complicating factor for the proponents, which include those who ran the Yes on 8 campaign, is that they are not actually the defendants in the case. Official defendants Gov. Arnold Schwarzenegger and Attorney General Jerry Brown said last week that the marriages should resume, meaning that the proponents "will need to show standing" at the Court of Appeals, Walker wrote in his 11-page order.
The American Foundation for Equal Rights and plaintiffs Kris Perry, Sandy Stier, Paul Katami and Jeff Zarrillo challenged Proposition 8 in federal court for violating the U.S. Constitution. After a three-week trial (including the testimony of 17 plaintiffs' witnesses, among them the foremost experts on the relevant issues, and thousands of pages of documents and a wealth of other evidence) the Court ruled last Wednesday, August 4, that Proposition 8 violated the rights to equal protection under the law and due process that the U.S. Constitution guarantees to every American.
Theodore B. Olson, who together with David Boies led the legal team in this lawsuit, said in a just-released statement: "The overwhelming evidence at trial established beyond any doubt that Proposition 8 denies gay men and lesbians the fundamental right to marry and treats them unequally, without any rational basis for doing so, and that it causes them irreparable and immediate harm. The Court's decision today recognizes that there is no reason to delay allowing gay men and lesbians to enjoy the same rights that virtually all other citizens already enjoy."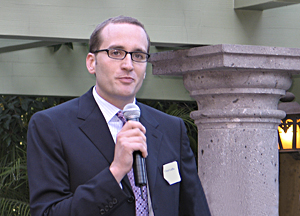 Chad Griffin, the Board President of the American Foundation for Equal Rights, added: "The unconstitutionality of Proposition 8 is comprehensively and unequivocally demonstrated by the Court's 136-page ruling, and so we are confident that we will continue to prevail. Our nation was founded on the principle that every American is equal in the eyes of the law. This case is about affirming that principle."
Here is an excerpt from the judge's original ruling which I never get tired of reading: "Proposition 8 fails to advance any rational basis in singling out gay men and lesbians for denial of a marriage license. Indeed, the evidence shows Proposition 8 does nothing more than enshrine in the California Constitution the notion that opposite- sex couples are superior to same-sex couples. Because California has no interest in discriminating against gay men and lesbians, and because Proposition 8 prevents California from fulfilling its constitutional obligation to provide marriages on an equal basis, the court concludes that Proposition 8 is unconstitutional."
Please see the comprehensive, 136-page decision here: http://www.equalrightsfoundation.org/legal-filings/district-court-decision/ A summary of the trial is available here: http://www.equalrightsfoundation.org/press-releases/perry-v-schwarzenegger-trial-summary/ Video evidence and other court filings are available here: http://www.equalrightsfoundation.org/our-work/legal-filings/