Breakfast w/Greg: Pain in Maine; Odd couple as Oscar hosts; Derek Hough playing gay? Kirstie Alley's new big fat job
Good morning everyone.
I'm feeling a bit subdued after deciding last night  to closely follow on the Internet results of the the referendum in Maine that would repeal a law that allows same-sex marriage.
There were constant updates on Twitter and for a brief time after dinner, I thought maybe the voters in Maine would come through for marriage equality and set a terrific example for the rest of our country.
But the outcome appears to be a sickening deja vu of what happened in California exactly a year ago today and it feels just awful. Knowing there are so many people who are so against LGBT equal rights is always a kick in the stomach and yet another reality check.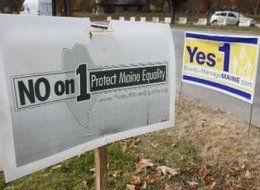 But whatever the final vote tally in Maine turns out to be, I was heartened by the Tweets and Facebook remarks of so many people who are already looking forward, undaunted.
I especially liked these words from Mike Bonin who is chief of staff for LA Councilman Bill Rosendahl. Mike who wrote on Facebook that he "is disappointed but not defeated. We may be losing in Maine, but our cause is right and our time will come. A new social justice movement is being born, and full LGBT equality will soon come."
West Hollywood Councilman John Duran pointed out on Facebook that it's "all a process … I remember when only 18 percent of the people supported marriage equality. … We shall win in the long run."
Personally, I have just had it with these state votes on civil rights! This is something that needs to be tackled on a federal level like all other civil rights battles.
That would take real leadership and courage.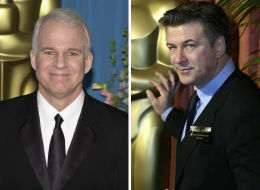 HOSTING DUO: After the dazzling Hugh Jackman turned down the opportunity to host the Academy Awards for the second year in a row, I wondered what direction to Academy of Motion Picture Arts and Sciences would go.
Would they ask Tony and Emmy host Neil Patrick Harris to step in so he could complete an unprecedented awards show trifecta? Or would they try and convince popular past Oscar host Billy Crystal to try his hand at it again?
Nope and nope. Instead, the Academy chose an unexpected pair: past solo host Steve Martin and past Oscar nominee Alec Baldwin! They are co-starring in an upcoming movie together (with Meryl Streep) called It's Complicated out next month but who knows if they have any chemistry?
On the surface, the pairing is a bit of a head-scratcher but co-producer Adam Shankman explained to the media Tuesday: "Very early on, we talked about a pairing as part of our concept of the show, having tradition and also freshness walking hand in hand. Steve anchors it in so much tradition and Alec … besides being a former Oscar nominee, he is just hot, hot, hot right now. And the two of them I know adore each other."
The 82nd Academy Awards ceremony will take place on March 7, 2010.
PLAYING ALONG: It seems like no matter what Dancing With the Stars hottie Derek Hough does or who he dates, people want to think he's gay.
So Derek decided to just go ahead and try and be gay – on television at least.
Marc Malkin reports
that Derek was real close to playing a gay guy "in a funny little scene" on the ABC comedy
Cougar Town
starring
Courtney Cox
. But his schedule on Dancing was too tight and conflicted with the filming of the episode.
"It would have been perfect," he said. "With all the rumors going around, I thought it would be really funny because it's just not true. But I was like, you know what? If that's what you want to see."
It is! It is!
FAT REALITY STAR: Kirstie Alley, a talented actress with two Emmy Awards, continues to make a career out of getting fat and losing weight.
Once the star of such shows as Cheers and Veronica's Closet, Kirstie gained an extraordinary amount of weight after her second sitcom was canceled. Instead of hiding, she signed to do the hilarious Showtime comedy Fat Actress in which she played a fictionalized version of herself.
Kirstie also became a spokeswoman for Jenny Craig, lost a whopping 75 pounds and went on The Oprah Winfrey Show in a bikini!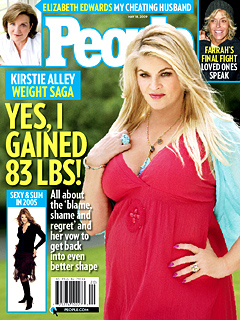 Then, she gained all the weight back and more. The weight gain landed her twice on the cover of People Magazine – one issue in which she admitted to the shocking extent of the weight gain and the second story was all about her plans to lose it. I found it all rather pathetic.
But Kirstie has landed on her feet again and landed an A&E reality series to debut next year all about her!
Variety reports that the still-untitled program will follow Kristie as she struggles with weight loss while handling life as a single mom to two teenagers in Hollywood."Kirstie is exactly the kind of star A&E is drawn to," said A&E nonfiction/alternative programming senior VP Robert Sharenow. "Her personal life has been playing out in the media for years, but this will be the first time she'll be opening up her home to reveal her real life for the cameras."
If Kristie hadn't lost that Jenny Craig gig, none of this would be happening!