Breakfast w/Greg: Ratings solid for Wanda's new show; Ellen and Portia visit Oprah; Eating Out 3 on DVD
Good morning!
I'm so happy to see that Fox's The Wanda Sykes Show got off to a good start in the ratings over the weekend.
Wanda is the first woman to have a late-night show on one of the broadcast networks since Joan Rivers did her late-night show on Fox way back in 1986.
According to Nielsen metered market overnight data, the weekly show's preniere averaged a 2.2/5 from 11 p.m.- midnight. That's up 16 percent from what Mad TV averaged last fall in the overnights ratings.
But Wanda was no match for Saturday Night Live which decided to have its highest ratings all season with Taylor Swift as host and musical guest.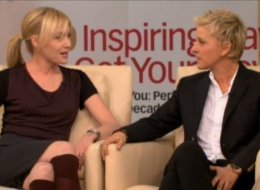 PERFECT FIT: I'll never forget being backstage at the People's Choice Awards a few years back and Ellen DeGeneres was answering questions from the press. With Portia de Rossi watching from nearby, Ellen talked about how the two of them just seemed to fit together.
On the Oprah Winfrey show that aired Monday, Ellen and Portia were guests for their first TV interview as a married couple.
"It feels like you're home," Ellen said of their marriage. "There's an anchor, there's a safety. I'm going to be with her until the day I die and I know that."
Portia talked about how it was basically love at first sight for her: "But it took me three years to actually tell her how I felt about her, because I was on 'Ally McBeal' at the time and wasn't living as an openly gay person. I was closeted and very very afraid that if I talked about being gay it would be the end of my career. So I wasn't about to date the most famous lesbian in the world."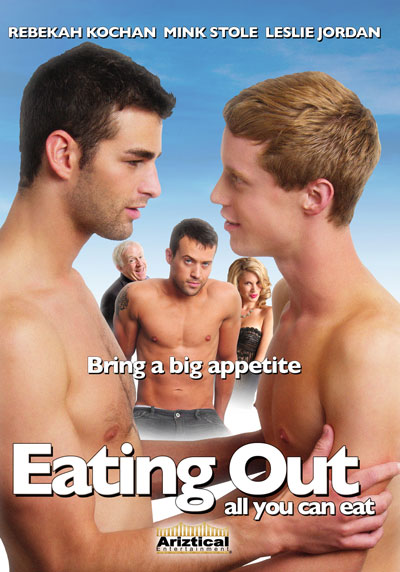 TAKEOUT MEAL:
In case you missed
Eating Out 3: All You Can Eat
when it had its brief theaterical run last month, the gay comedy sequel is out on DVD today!
Okay, the movie isn't going to win any Oscars but it's fun and I really enjoyed the hilarious Rebekah Kochan in the female lead role. She is the only holdover from the first two movies and she makes the most of her increased role.
Director Glenn Gaylord was able to surround her with several newcomers all making their feature film debuts including Daniel Skelton, Chris Salvatore, Michael Walker,  John C. Stallings, Maximiliano Torandell, and Rick D'Agostino. – all openly gay actors.