Breakfast w/Greg: Peter Paige talks Tales of the City; Madonna on Letterman and Happy B-day to Julie Andrews!
Good morning!
So much is coming your way today from Greg In Hollywood including my take on GLAAD's report on LGBT visibility on prime-time TV and a recap of last night's fantastic Outfest Legacy Awards.
So stay tuned!
As an appetizer, I share with you some of my red carpet chat with Peter Paige who during the awards, read a really terrific letter from Tales of the City author Amistead Maupin to honoree Alan Poul who produced the landmark miniseries and its sequels.
Peter and I began by talking about the sexy kiss inside a red convertible at a stop sign between Michael "Mouse" Tolliver (Marcus D'Amico) and Dr. Jon Philip Fielding (Billy Campbell).
"I did think, 'Boy, I'd really like to play that Mouse part,'" Peter said, laughing. "I'll never forget, it's one of the great ones. I still would marry Billy, who's the nicest guy in the world, without even going on a date. If someone like his agent called and said, 'Would you marry Billy Campbell?' I'd be like, 'Yeah!'"
Peter is certain that Tales of the City helped pave the way for more LGBT stories being made for television including Showtime's Queer as Folk which Peter starred on for five years.
"It was such an amazing, amazing thing. It was so fun," he said of Tales. "When you think of it now, it was just a soap opera that happened to have some gay characters at its center. But it was such a big deal and it was so well-made and it so sexy and it was unbelievable that it was happening."
"I remember being excited and moved that my kinds of stories were being told."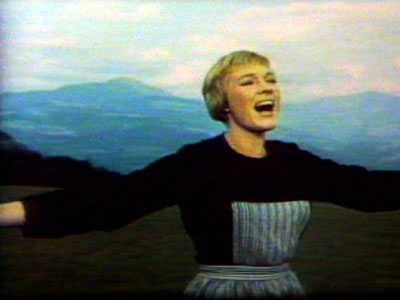 THE SOUND OF JULIE: The great star of Mary Poppins, Victor/Victoria, Thoroughly Modern Millie and, of course, The Sound of Music, turns 74 years old today.
Her astonishingly beautiful voice can be heard in her films and on soundtracks of some of her Broadway hits including My Fair Lady and Camelot. But a botched throat operation has robbed Miss Andrews of her previous range.
But that has not stopped this great star who in recent years has starred in Disney's Princess Diaries movies, wrote a very good autobiography about her early life, and has done a series of children's books with her daughter.
She is the definition of class.
NOT GETTING MARRIED: There have been all kinds of silly reports that Madonna is going to get married to some hot dude young enough to be her son.
The singer made one of her memorable appearances on The Late Show With David Letterman and dispelled such talk.
Divorced from Sean Penn and more recently from Guy Ritchie, Madonna said she's "rather get run over by a train" than get married again.
So there you have it!