Breakfast w/Greg: Joy Behar on ratings roll; Maddow on "Fallon" show: Cuomo confirms "20/20″ move
Good morning.
Not that I'm having one! My allergies decided to flair up so I'm sneezing waiting for my meds to take effect. Could not get WiFi at home so I'm at Java Detour sitting far away from everyone trying not to sneeze too much.
It reminds me of an old episode of The Mary Tyler Moore Show when Mary has a really bad day – including a weird "hair bump." Since I have so little hair, I know that won't happen to me!
But enough about me. How about that Joy Behar?
The best thing about The View has been flourishing with her own nightly show on HLN and this week, had record ratings with just under 1 million viewers on Tuesday when she hosted Roseanne Barr. A day earlier, Joy averaged a then-record 824,000 viewers when her guests were Levi Johnston and Andrew Sullivan.
This is well-deserved for this smart, opinionated and very funny lady. I rarely watch The View anymore except for clips online but caught it on Monday. Barbara Walters seemed to chide Joy for mentioning her night time show one too many times and Joy retorted by mentioning the endless mentions of Barbara's memoir a few years back.
Touche!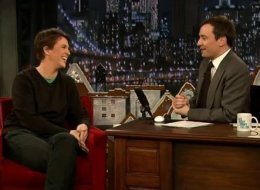 MAD FOR MADDOW:
Another red-hot and very relevant cable news personality,
Rachel Maddow,
showed her lighter side this week during a guest appearance on
Jimmy Fallon's
late night show on NBC.
Rachel has been focusing on such topics as the war in Afghanistan and about frightening anti-gay bills in Uganda. That doesn't leave her much time to discuss the scandals of Tiger Woods.
"Tiger Woods never said, 'Buy Nike, I'm faithful to my wife,'" she said. "He never made claims to be the superior moral being. So I have a hard time thinking we should cover it."
But Rachel, who is a lesbian,  joked to Jimmy that even she had slept with Tiger: "I think it's going to hurt his reputation when everybody finds out about me."
My favorite line though is when Rachel said the lack of an index in Sarah Palin's book is "an insult to reading people everywhere."
She has not read it.
GOOD EVENING AMERICA:
Good Morning America
news anchor
Chris Cuomo
confirmed this morning that tomorrow (Friday) will be his final day as a regular on the popular show.
He joins Elizabeth Vargas as co-host of 20/20.
The very appealing Chris was passed over to replace Diane Sawyer as co-host with Robin Roberts in favor of George Stephanopoulos. I think it's a mistake to further break up a team that viewers had so embraced. But for Chtis, it's a great opportunity.
He told viewers on Thursday's show: "It is a dream job for a journalist like me, but it was also a very difficult decision, because I am leaving a special place and crew and all of you and you are all part of my family,"