Breakfast w/Greg: Ian McKellen on The View; Neil Patrick Harris to be honored by Trevor Project; Susan Lucci's parade plans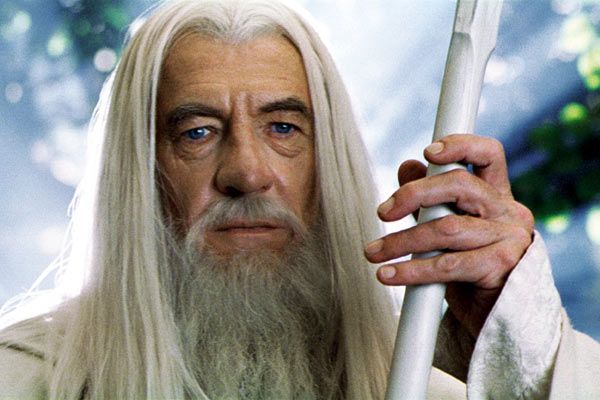 Happy Friday!
I'm blogging from the Barnes & Noble Cafe at The Grove this morning and out the window, I can see workers setting up the Santa Claus house. Am I too old to sit on Santa's lap and whisper into his ear that I want an all-expenses paid cruise to the Caribbean?
Anyway, if Sir Ian McKellen was making any wishes to Santa, one might be that he never have to be a guest on The View again! The two-time Oscar nominee was asked by Whoopi Goldberg whether he was going to be making any more Harry Potter movies. Of course, he is not in the Potter movies and she was most certainly thinking of the Lord of the Rings trilogy.
Then Sherri Shepard, a very funny woman but not always the brightest bulb in the lamp, mispronounced McKellen's character's name in the X-Men films!
And then there was the exchange with the ultra-conservative and completely annoying Elisabeth Hasselbeck.  EW.com reports that Hasselbeck tells this Knight of the British Empire that she was told he had been given the swine-flu vaccine from his country's nationalized health-care system and she got the name of it wrong.
He corrects her ignorance on the topic by telling her that he had not been given the swine flu vaccination. But he could have it free from the National Health Service, which he said is "not run by the government, but by the doctors and the hospitals." To which Hasselbeck said, "Yeah, that's what they'd like you to believe, I'm sure."
Sir Ian replies: "I wouldn't be as healthy as I am if I hadn't had the National Health Service," Hasselbeck yells over the clapping, "It's my personal belief and the belief of many others than I do not want the government running our health care!"
Maybe they should have just stuck to asking him about his new miniseries Prisoner which is why he was on the gabfest in the first place!
I don't enjoy Elisabeth Hasselbeck.
Here's the clip:

DESERVING HONOR: I love sharing this item with you.
The Trevor Project announced this week that it will honor actor Neil Patrick Harris at the organization's annual Cracked Xmas fund-raiser.
The Emmy-nominated star of CBS's How I Met Your Mother is one of the highest profile out actors in the world and has long supported the work of  the Trevor Project, the leading national organization focused on crisis intervention and suicide prevention efforts among LGBTQ youths.
Neil said in a statement: "For many years, I have been a passionate and enthusiastic supporter of the Trevor Project's lifesaving work, and I'm deeply honored to be recognized by an organization which has such a vital mission. I'm hopeful that in accepting this award, and in helping to build further awareness of the Trevor Project's resources, I can in some small way make a difference in the lives of LGBTQ youth."
Survivor host Jeff Probst, a close friend of NPH, will present the award in Los Angeles on December 6.
When I watched NPH's appearance on The Tonight Show this week, he casually referred to his "better half" David Burtka and had some other gay references peppered throughout and he was at ease and confident – not a hint of shame! It seems to me that if there were a lot of young gay kids out there watching, they might feel a little better about the future and its possibilities.
LOVELY LUCCI: Another feel-good item to wrap up the morning column.
Emmy winner Susan Lucci, one of the classiest and most gracious stars I've ever met, has been named the 2009 Grand Marshall for the Hollywood Christmas Parade.
No doubt it was made possible by the impending cross-country move of her soap, All My Children, from New York City to Los Angeles.
"I am thrilled and honored to serve as the Grand Marshal of the 2009 Hollywood Christmas Parade," the actress said in a statement. "I am so happy that this year's parade will be telecast for the first time ever as a two-hour primetime television event, spreading holiday cheer and happiness to Americans across the country.  The Hollywood Christmas Parade is for children and families, both of whom are very important to me in my personal life."
Having TV's Erica Kane in Hollywood will be wonderful. She'll be able to guest on Conan and Leno and Craig Ferguson and do more guest spots in prime-time.
The Hollywood Christmas Parade is such a fun tradition. I've attended many times and never fail to get caught up in the spirit of it and enjoy meeting the stars who come out to ride the route.
It's always held on the Sunday of Thanksgiving weekend which falls on Nov. 29 this year. In case you can't make it live, the parade will be taped for a nationwide broadcast on MyNetworkTV, airing on both Thursday, December 10, and on Christmas Eve, Thursday, December 24.