Breakfast w/Greg: Dustin Lance Black grammar lesson; A Meredith Baxter book? Two really hot Santas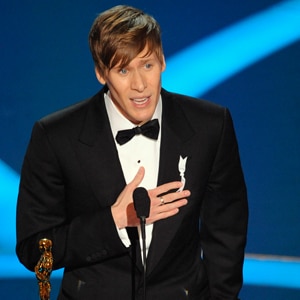 Thankl God it's Friday!
Here are some items to send you into the weekend with.
Dustin Lance Black was among those honored this week at the PEN Center USA Literary Awards in Beverly Hills. In his acceptance speech, the Oscar winning screenwriter of Milk told the crowd about how he recently was invited by the English department of a Michigan college to speak there then uninvited by an unfriendly administrator.
According to the Los Angeles Times, when Lance received word that he receiving the PEN award, it inspired him to rent a theater near that college and screen Milk and to discuss LGBT equal rights.
He also mentioned that he'd seen anti-gay graffiti elsewhere in his travels — "You A Fag" it read. "Well you're right," he said, "but at least you could have given me a verb."
Pictured below is Lance with Walter Mirisch, fellow PEN honoree Elmore Leonard and Milk producer Bruce Cohen.
BAXTER BOOK: Meredith Baxter is my new hero! Man, those interviews she gave this week were, in my opinion, a big boost to the LGBT equal rights movement.
I'm quite certain she will continue to speak out and, hopefully, help open the minds of all those Family Ties fans who may not have been so gay-friendly in the past.
Anyway, the New York Post is reporting that the three-time Emmy nominee is said to be shopping around a book deal! I'd love to read about her later in life realization that she is a lesbian, about her acting career and days on Family and Family Ties, her three marriages and being mom to five kids.
If she's as good a writer as she is at articulating herself, we're in for a mighty good read.
HUNKS FOR THE HOLIDAYS: This is an interesting – and hopelessly hot – new couple.
On the left is model Ryan Barry who we became familiar with during his relationship with Reichen Lehmkuhl.
Now Ryan, who obviously has superb taste in men, has become involved with another hot military man: Lt. Col. Victor Fehrenbach!
According to an item on Towleroad, the couple has have been dating for several months and was pictured this week at an AIDS Services Foundation fundraiser in Orange County.
Fehrenbach was a Greg In Hollywood Morning Man last month.
He's an American hero and fighter pilot who during an 18-year career in the military, completed 88 combat missions, 2,189 total flying hours, 1,487 fighter hours and 488 combat hours. He has received eight air medals, one for Heroism, and was hand-picked to protect the Washington, D.C. airspace after 9/11. He flew combat missions in Iraq and Afghanistan, targeting the Taliban and Al Qaeda.His reward? He was discharged earlier this year – just two years short of retirement – because he is gay.