Breakfast w/Greg: Adam Lambert's CD already big; Obama gives shout out to gays in; Advocate adds TV newsmagazine
Bye Bye summer.
I'm sitting here outside the Coffee Bean and Tea Leaf at The Grove and it's actually chilly!
Adam Lambert, I must remind you, did not win American Idol last season. He was the runner-up. But he is poised to win on the record charts against winner Kris Allen and just about anyone else judging from advznce sales of his upcoming CD.
The NY Post reports that within hours of making his yet-to-be-released album available for pre-order on Amazon.com, a frenzy of ordering drove Lambert's ranking all the way to No. 2 on the online retailer's bestsellers list.
Adam outranked new albums from Madonna and Mariah Carey even though his CD won't be released until Nov. 24. Only Barbra Streisand, out with her first studio CD in four years, managed to outrank him on Amazon yesterday.
As we've seen with Jennifer Hudson, Chris Daughtry and Clay Aiken, you don't have to win Idol to be a huge success on the record charts and beyond.
ANOTHER PRESIDENTIAL GESTURE: As the LGBT community waits for something substantial from President Barack Obama like the repeal of Don't Ask, Don't Tell for starters, the president has thrown another little crumb our way.
He included gay- and lesbian-led families when issuing a proclamation to acknowledge Monday as Family Day, according to Advocate.com.
"American families from every walk of life have taught us time and again that children raised in loving, caring homes have the ability to reject negative behaviors and reach their highest potential," Obama wrote. "Whether children are raised by two parents, a single parent, grandparents, a same-sex couple, or a guardian, families encourage us to do our best and enable us to accomplish great things."
That's good, really. But after courting the LGBT vote so heavily during his campaign, much more is expected of this president even as he grapples with a host of political and economic issues.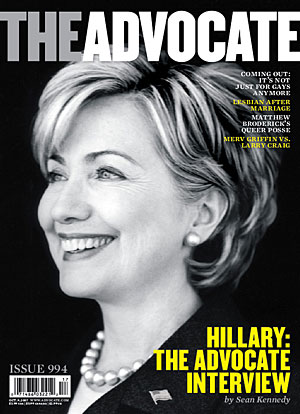 HITTING THE AIRWAVES: This sounds promising! Pre-production began today on a new television newsmagazine brought to you by The Advocate with the premiere slated for sometime next year on here! Networks, Advocate.com and Gay.com.
The newsmagazine will share the Advocate's editorial direction dedicated to examining current news, political, lifestyle and cultural trends. Each episode will be hosted by The Advocate's Editor in Chief Jon Barrett and the magazine's senior editors will file on-air reports including profiles and investigative segments.
Stephen Macias, Here Media's Executive VP and General Manager says of the venture: "Adding a monthly televised news program bolsters The Advocate's ability to engage an entirely new audience. Additionally, the new content and format create exciting advertising and sponsorship opportunities further integrating The Advocate and Here Media's other prominent LGBT brands."