Betty White out Cary Grant? Hardly.
Oh that crazy Betty White.
If she hadn't gone on The Joy Behar Show this week and mention that Cary Grant was gay, no one would have ever thought so.
Ha!
Betty was having a good gab with Joy when they started discussing gay actors and Betty told a well-known story about Rock Hudson, ravaged by AIDS, shocked the world when he showed up for a television appearance with Doris Day looking near death.
"Everybody kind of knew his situation, but it didn't seem to hold back his career. … Cary Grant, same thing."
Betty quickly added:  "No, I don`t know. I never had him — I never had it."
Here's the video: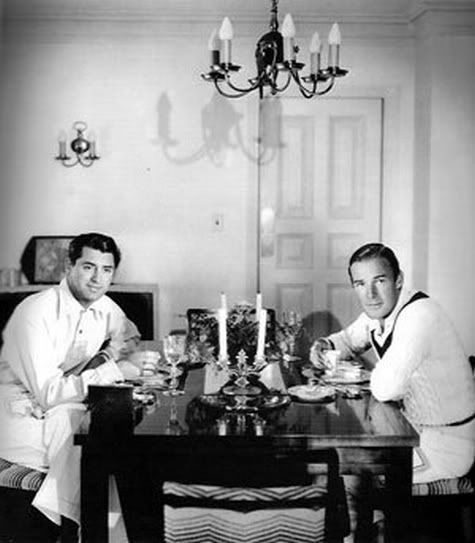 It's a good bet that actor Randolph Scott had Mr. Grant.
They shared a Malibu bachelor pad on and off for a decade and, according to multiple sources, were involved romantically. But neither man ever acknowledged anything more than friendship – publicly at least.
Author Brett L. Abrams wrote about the actors in his book Hollywood Bohemians: Transgressive Sexuality and the Selling of the Movieland Dream.
Here are some excerpts:
The first publicity images containing information about Grant and Scott began after they became friends while filming the movie Hot Saturday in mid–1932. Press reports during the first two years described the actors' shared celebrity home and domestic life through phrases including, "Hollywood's twosome" and "the happy couple." The innuendos provided details about the two actors' personal lives which thrilled fans, making the actors appear to be two men sharing more than lodgings.
The pair continued their domestic relationship even after Grant's marriage to Virginia Cherrill in early 1934. Reporters noted, "The Grants and Randolph Scott have moved, all three, but not apart." Indeed, this choice for living arrangements appeared preplanned. An item from two weeks prior to Grant's marriage observed that Scott would not seek any permanent quarters until he heard from Grant. Innuendos continued later that year. Shortly after Grant's divorce from Cherrill, an article proclaimed that Randolph Scott had moved back in with Grant. This article's title, "A Woman Is Only a Woman," suggested that the two men formed a home life with one another that they probably could not have with a woman. These items associated the actors' home with a forbidden sexuality, turning the place into an exotic experience.
The Paramount publicity department shot over thirty photographs of Grant and Scott within different rooms of their Santa Monica beach house. The studio focused its interpretation of these pictures on the stars' personalities, bachelorhood, and use of the house. The caption stamped on the back of each photograph highlighted that the actors were two of filmland's most eligible bachelors who shared quarters but lived independent lives.
The actors' living arrangement lasted until early 1942 when they moved apart for the remainder of their lives.