Annual GLAAD TV report released: CW and ABC lead broadcast networks for LGBT inclusion, CBS failing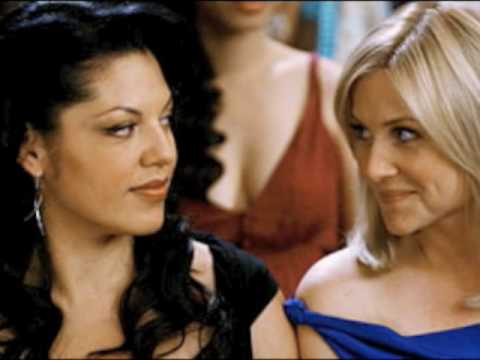 The Gay & Lesbian Alliance Against Defamation (GLAAD) today released its fourth annual report charting LGBT visibility on television – both broadcast and cable and the results are, as always, both encouraging and discouraging.
Of the five broadcast networks, the CW has surged to the lead with a "good" ranking thanks to both scripted and reality programming. It's America's Next Top Model series has a gay catwalk expert, gay photo shoot editor, gay fashion editor as well as a transgender model and two lesbian models.
But scripted shows also are more inclusive starting with Gossip Girl which saw the expanded role of gay teen Eric Van der Woodson (pictured, left) and also had lead character Chuck Bass kiss a man in one episode to help his girlfriend Blair out of a jam. What was really hot was that Chuck indicated to Blair that it wasn't the first time he had locked lips with a dude.
The now-canceled Melrose Place had a lesbian character as did 90210 where next season a major male character will come out of the closet. Also, on the now-canceled One Tree Hill, the character of Josh came out as gay.
CW was able to surpass ABC, leader in previous years, because it has less hours of programming so its percentage of LGBT inclusion was higher. But ABC retained a "good" ranking and remains strong with several continuing, rich characters.
Let's start with gay married couple Mitchell and Cameron on the new comedy Modern Family which is a ratings hit and scored several Emmy nominations in key categories. The series kicked off with Mitchell and Cameron bringing home their newly adopted daughter and has remained an integral part of this breakout hit.
On Grey's Anatomy, Calle and Arizona remain a lesbian couple and on Ugly Betty, Justin Suarez not only came out to his family, he also got his first boyfriend and had the support of older gay friend Marc.
Desperate Housewives brought back the character of Andrew Van de Kamp on a regular basis mid-season and continued to feature gay couple Bob and Lee who revealed they are trying to become parents. A lesbian relationship also began on Wisteria Lane with Dana Delaney's character of Katherine in love with a stripper played by Julie Benz.
On Brothers & Sisters, Scotty and Kevin remained a solid couple and are trying to have a baby via surrogate while Kevin's uncle Saul deals with not only coming out as a gay man at an older man, but with the knowledge that he is HIV positive.
Fox received an "adequate" ranking thanks to its breakout gay character of Kurt on Glee which earned actor Chris Colfer an Emmy nomination. After that, it can only point to having openly gay people as judges on its reality shows: Ellen DeGeneres on American Idol and Adam Shankman on So You Think You Can Dance.
NBC, the network that brought us Will & Grace but had not built on that legacy for several years, saw its LGBT inclusion improve from "poor" to "adequate" with a male gay nurse of Mercy, a gay paramedic on Trauma and the better-late-than-never revelation that Law & Order: SVU chracter Dr. Hwang (played by out actor BD Wong) is gay.
As far as CBS, which received a "failing" ranking, it is clear that LGBT visibility is simply not a priority when it comes to scripted shows. The network has more hit ensemble dramas than any other with the CSI and NCIS franchises as well as Criminal Minds and The Mentalist but not a single regular character is gay – not ONE. Ditto for its comedies which include Two and a Half Men, Big Bang Theory, Rules of Engagement and the now-canceled New Adventures of Old Christine.
But CBS has featured gay contestants on its hit reality shows Amazing Race, Big Brother and Survivor.
GLAAD reviewed a total of 4,787.5 hours of primetime programming for inclusion of LGBT characters or issues on the five major networks (ABC, CBS, The CW, Fox and NBC) from June 1, 2009 to May 31, 2010. GLAAD also examined 1,227.75 hours of original primetime programming on 10 highly-rated cable networks. Each hour was reviewed for on-screen LGBT representations. Based on the quantity, overall quality and diversity of these representations, a rating was assigned by GLAAD's Entertainment Media Program to each network: Excellent, Good, Adequate, or Failing.
"When television networks share real stories of our community, audiences begin to see the common ground that we all share," said GLAAD President Jarrett Barrios. "Over the last year, viewers across the country celebrated the arrival of Mitchell and Cameron's baby on ABC's 'Modern Family', while teens and parents everywhere were moved by Kurt Hummel's relationship with his father on Fox's 'Glee.' These images and stories are being noticed by viewers, critics and Awards programs and we urge other networks to open their airwaves to such powerful and inclusive messages."
While the networks could not finish any higher than "good," GLAAD awarded its first "excellent" ranking ever to MTV [more on cable rankings tomorrow] Of MTV's 207.5 hours of original primetime programming, 42% included LGBT-inclusive images that reflected the ethnic and racial diversity of the LGBT community as well as a strong cross-section of lesbian, gay, bisexual and transgender people.
"It is with great pride that GLAAD honors MTV with our highest mark of excellence in recognition of the network's commitment to fair and accurate representation of the lesbian, gay, bisexual and transgender community," said Barrios. "From their inception, MTV programs like 'The Real World' and 'America's Best Dance Crew' have offered richly diverse portrayals of gay and transgender people that help Americans better understand and accept our community."
In addition to MTV's groundbreaking "Excellent" rating, five networks (ABC Family, HBO, Lifetime, Showtime and TNT) received "Good" ratings, marking the first time that a majority of cable networks received higher than an "Adequate" rating.
Here is a LINK to the full GLAAD Report.