Anderson Cooper to launch daily daytime show!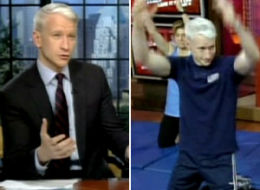 Anderson Cooper, already one of the hardest-working guys in television, just got busier.
The host of CNN's Anderson Cooper 360 and part-time 60 Minutes correspondent has signed a deal to host a syndicated daytime TV talk show in the fall of 2011.
He will remain as host of his CNN show.
Warner Bros. domestic television distribution and Telepictures Productions announced the deal Thursday, and said the daytime show would cover social issues, pop culture, and human interest stories.
Cooper, 43, will also conduct undercover investigations using hidden cameras, and hold town hall meetings on topics like race, infidelity and Internet predators, Warner Bros. and Telepictures said.
Anderson said in a statement: "The format is unique and you can really go in-depth on a wide range of fascinating and compelling stories. With this new program I hope to relay important information and relate to people and the audience in a completely different way."
With Oprah Winfrey leaving her daytime show after this year, there is going to be a big grab for her audience. Anderson is mainly a hard news man in CNN but anyone who has seen him co-host Live with Regis and Kelly or the CNN New Year's Eve show with Kathy Griffin knows how appealing his lighter side can be.
Of course it will also be interesting to see how open he will be about his personal life now that Rosie O'Donnell and Ellen DeGeneres have been openly gay on daytime (Rosie on The View) and openly gay Nate Berkus has joined the field with Sara Gilbert set to debut as part of The Talk next month.