Anderson Cooper on oil spill coverage: "It's good to see firsthand the ways people are trying to take control of their lives"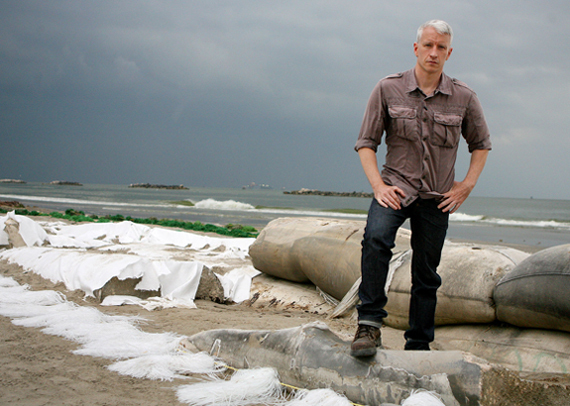 Anderson Cooper has his detractors but I am certainly not one of them.
I don't spend a lot of time wondering if the muscular man Anderson is sometimes photographed with is his boyfriend or grouse that Anderson is not chatty enough about his sexuality.
Maybe I would be if I wasn't so damned impressed with the job he does each night on his CNN Show AC360. I watch it just about every night when there is an ongoing big story going on because often times, Anderson will be out there on the front lines doing his own reporting and he will be out there for weeks after other shows have lost interest.
He did it in Haiti after the Earthquake and now he's doing it again with the BP oil spill. Each night, you learn so much about the clean-up effort (its successes and failures), the politics involved and best of all, you learn about the people who are affected by the spill – the fishermen, the restaurant owners, the families.

Anderson talks about the story in the new issue of TV Guide Magazine. Here is part of the Q&A:
Q. How exhausting has this been for you?
A. There are so many people here in need who are going through really horrific things, it's like, my schedule doesn't really compare to the stuff people here are going through.
Q. Between this, Kartina and Haiti, you've covered some really bleak stories. Do you ever miss just hosting The Mole?
A. [Laughs] I'm very happy doing what I am doing now. Even in the midst of these bleak situations, you find people who are resilient and strong and determined to make the best of a terrible situation.
Q. How do you make the best of this?
A. Sometimes after the broadcast, we go down to the Spotted Cat and catch a great jazz band. It's one of my favorite bars in New Orleans, and a nice reminder that the city and its culture are very much alive and well.