Afternoon Greg: Rest in Peace, Walter Cronkite
It was sad to learn of the passing of legendary television news anchor Walter Cronkite who died today at the age of 92. He was once known as "the most trusted man in America" which makes it hard to believe that he was essentially forced from the CBS Evening News anchor chair in 1981 after nearly 20 years to make room for the younger Dan Rather.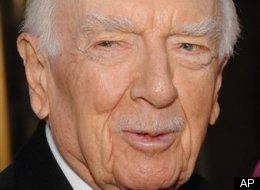 He had covered everything from the grim Vietnam war to the scandalous Watergate crisis to America landing on the moon. It always seemed wrong to me and CBS never really found a good fit for their legendary anchor after that. A real pity but, as he said in his nightly sign off, "… that's the way it is."
Current CBS Evening News anchor Katie Couric said today in a statement: "When I think of Walter Cronkite, I think of his high journalism standards, integrity – but most of all his humanity. I think he was so trusted because he exhibited a sense of purpose and compassion, night after night. He was the personification of excellence."
Rest in peace, Walter Cronkite.
Here is video of Mr. Cronkite announcing the assassination of President John. F. Kennedy on Nov. 22, 1963:

MOVIES, MOVIES, MOVIES: Well, I've seen over a dozen Oufest movies in the past seven days and plan to take in at least 4-5 more over the weekend. But I took a break earlier today to drive down to The OC to spend the afternoon with my 10-yar-old niece and my 7-year-old nephew – my sister's kids.
They've been missing uncle Greg and he's missed them so I scooped them up, took them to McDonald's for lunch then over to the multiplex for the 1:30 p.m. showing of Ice Age: Age of the Dinosaurs.
I had not seen any of the Ice Age movies and was dubious but I have to say, I had the most wonderful time. We got our 3D glasses on the way in and they made the whole think kind of a special treat. The movie is so well done, fast-paced and sweet. My nephew usually has to pee at least once during a movie – sometimes twice – but he made it through the entire time without a potty break!
He's growing up!