Afternoon Greg: Michael Jackson Edition

I Watched the Michael Jackson memorial service from Java Detour. Some of it was incredibly moving and some of it – especially when Rev. Al Sharpton was crediting Michael with everything except brokering world peace -made my eyes roll into the back of my head.
Mostly, it was very well-done and tasteful.

Here are some of my observations: Jermaine Jackson singing a wonderfully moving Smile was an absolute highlight – just the perfect tribute to his brother. Brooke Shields gave a touchingly personal eulogy as did Smokey Robinson. Both were so engaging and moving.
Usher's Gone Too Soon gave me a lump and boy, Jennifer Hudson just may be the best singer around. Great performances both. Maya Angelou's poem was beautiful but as good as Queen Latifah was in reading it, I missed Maya's voice. … I thought  Rev. Al Sharpton was way over-the-top in his eulogy. He said Michael "taught the world how to love." Yes, he wrote We Are the World but c'mon! Sharpton also gave much credit to Jackson for breaking color barriers and paving the way for blacks to be on magazine covers and to see Oprah on television and even President Obama's election!
"Michael did that, Michael made us love each other."
Dude, get a grip. He was a pop icon, a brilliant entertainer whose accomplishments will probably never be matched, but he was far from perfect and some of those barriers were broken down by MJ's friend Diana Ross. And I know it's probably not real sensitive to mention it, but Michael did not seem to want to be black as he altered his face so dramatically.
Anyway, Ross was not at the service but Smokey read a statement from her: "I'm trying to find closure," said Ross' statement. "… Michael was a treasured part of my life… Michael wanted me to be there for his children and I will be there … I hope today brings closure for all those who loved him. Thank you Katherine and Joe for sharing him with the world."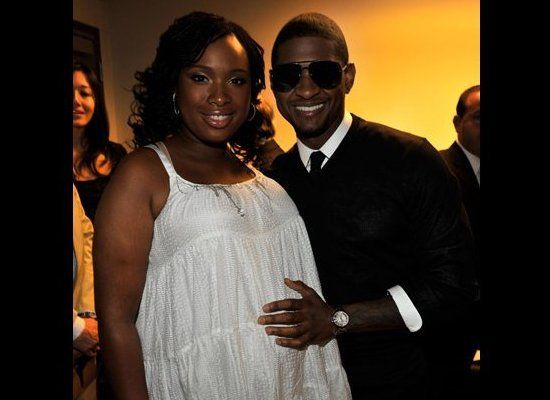 Among the other speakers at the service were Berry Gordy Jr., Kenny Ortega, Martin Luther King III while Stevie Wonder, Mariah Carey, Lionel Ritchie and John Mayer also performed before the end when groups sing-a-longs of We Are the World and Heal the World.
The words from brother Marvin Jackson were so funny and touching and personal including stories of watching The Three Stooges before having to go to the recording studio and catching MJ, in disguise, buying records at the store: "


But Nothing made Michael Jackson more human and worth mourning than when his daughter Paris, unsuccessfully holding back tears, took the microphone and said: "Daddy has been the best father you can ever imagine. I just want to say that i love him so much."
I think that moment does more to humanize Michael Jackson than anything else that was said the entire morning.
CELEB CENTRAL: Among the celebrities at the funeral in addition to those seen on stage were Barbara Walters, Kobe Bryant, Jesse Jackson, Dionne Warwick, Wesley Snipes, LeVar Burton, Lou Ferigno and several of those Kardashians.
BROOKE REMEMBERS THE TIME  MICHAEL PROPOSED: Brooke Shields tells Rolling Stone in its current issue that she met Michael Jackson when she was just 13 and that at one point, he proposed to her:
"There were times when he would ask me to marry him, and I would say, 'You have me for the rest of your life, you don't need to marry me, I'm going to go on and do my own life and have my own marriage and my own kids, and you'll always have me.' I think it made him relax. He didn't want to lose things that meant something to him."
"As he grew older and the more he started to change physically, the more asexual he became to me," she adds. "It was easy for him to be a friend to me, because I was the most celebrated virgin ever; it's ridiculous, but I was America's virgin. You saw women who were more sexual, who wanted to throw themselves at him and feel like they were going to teach him; we just found each other, and we didn't have to deal with our sexuality. As I grew up and started having boyfriends, I would share with him, and he was like a little kid who talked about the bases- what first base was, what second base was, and it sounded very odd to the outside, I can imagine, but to the inside, to someone who's never really left his bubble, you can understand how he would be curious."
They had not seen each other, however, for at least 18 years: "The last time I saw him in person was at Elizabeth Taylor's wedding in 1991. He seemed like his own funny self. We snuck in and took pictures of ourselves next to her dress. We always seemed to revert to being little kids. It was a sanctuary for him, because he knew I never wanted anything from him but his happiness."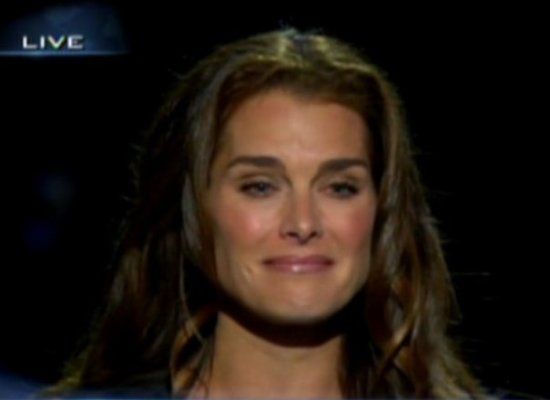 Brooke spoke at the service saying theirs was "the most natural and easiest of friendships .. Michael always knew I woiuld be there to support him no matter what and to be his date and we would always have fun…. Yes it may have seemed very odd to the ouside world, but we made it really, really fun."