2013 Emmy nominee Michael Muhney, whose Y&R character had brief walk on gay side, is fired
This is a shocker.
Michael Muhney, one of daytime television's most talented and dynamic stars, has been fired from the CBS soap The Young and the Restless.
The actor was Emmy nominated this year for his performance as Adam Newman, a role he had played since June 2009.
"I don't know what to say,' Muhney tells Huffington Post Canada TV. 'It's powerful, what I'm feeling, but it's not all positive. It's a conflux of sadness, disappointment, heartbreak, humility, warmth, and a reality check. I'm saddened. I poured my heart, blood, sweat and tears into this show. They say, you don't know what you've got until you lose it, so maybe there's a bit of that, but I try to be a grateful guy most of the time.'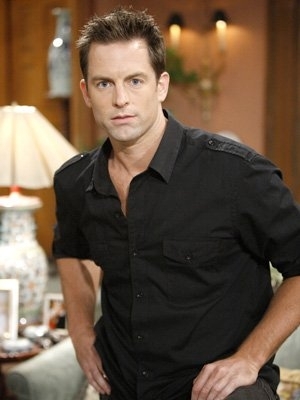 Michael came to the show as an emergency recast for Chris Engen and walked right into a storyline that had his character partially blind and sleeping with his lawyer and friend Rafe (Yani Gellman) to get out of a jam. It was disappointing that the Adam and Rafe storyline did not develop further or that the two never even shared an on-screen kiss.
'The Rafe seduction really whet my appetite,' Michael tol TV Guide Canada that year. 'First of all, as an actor I have no boundaries whatsoever. A character who will do anything to get what he wants will always draw me in as an actor. Adam blurred the lines of sexuality when he seduced his gay friend for the sake of self-preservation. That told the audience that there isn't a line he won't cross. Which makes Adam the ultimate threat because he refuses to fail or lose.'
'I think Adam surprised himself at the lengths he'd go to survive,' the actor said of his soap alter-ego. 'In that moment, he was tormented at what he was truly capable of. All in all, I like how the story played out. The best part is that particular story thread is still hanging out there to be explored. I get a kick out of the fact that from time to time several characters will make comments about Rafe and Adam's sexual encounters. Adam still has to answer for taking advantage of Rafe and his sexuality. I would think that one day Adam's going to have to address how he betrayed his friend in the worst possible way. Until then, Adam will play defense when their affair is brought up.'
Of the lack of an on-air kiss between Adam and Rafe Michael said: ' … Let me tell you, if the kiss was written into the script, I would completely embrace it with open arms. I'm an actor. That's what I do — act. I would've gone the distance. As I always have and always will.'
One thing will always remember is during his first year on the show, Michael posed for the NOH8 campaign and spoke out for marriage equality: 'I want to stand up with tears and frustrations and just say, "Are you kidding me? You're going to tell me that there are rules and limitations to love?" As my sister likes to say, "straight people have no right to corner the market on miserable marriages!" It's heartbreaking, really.'
Best of luck to Michael in whatever lies ahead. He filmed his final scenes as Adam on Thursday and will continue to appear in episodes through the end of January.
Here is a LINK to video of the scenes where Adam went gay to save his skin!