2010 Greggys: Top five Morning Men of the Year!
It was just too tough to pick just one Morning Man of the Year so I've narrowed it down to five guys who stand out among more than 350 standouts!
Pictured above and left is Mexican-Argentine actor Sebastian Rulli who has got to be one of the sexiest men on television. I hadn't heard of him until I saw him on another site and, just like that, I think he's become the love of my life.
Rulli made his first appearance on Mexican television in the soap opera Primer amor… a mil por hora in 2000. He has appeared in many other telenovelas, including Clase 406 (2002) and Rubi (2004), where he played "Héctor Ferrer." His most recent role was in Televisa's Un gancho al corazon.
It was kind of tough to find photos of U.S. soccer star Oguchi Onyewu with his shirt on but I did manage to locate a few just to keep things balanced when he was featured back in July as part of Greg In Hollywood's World Cup Week.
Oh my God, is this guy gorgeous or WHAT? The face, the body. Wow. He is often referred to by the nickname "Gucci Mane" but I'll just call him Perfection.
The 28-year-old defender is from Washington DC and plays for Milan in addition to the United States national team currently competing in World Cup. He was voted U.S. Soccer Player of the Year in 2006.
He played soccer for Clemson University for two years before moving to Europe. He signed with Metz of Ligue 1 in France. In 2003, he was loaned out to La Louviere in Belgium, and to Standard Liege a year later. In 2009, he signed a three year contract with Milan.
When I saw Animal Planet's Dave Salmoni make an appearance on Jay Leno's show one night, my first thought was: Morning Man!
And this was before I saw any photos of him with his shirt off!
Dave got some press for dating Chelsea Handler this year but he was already well-known to viewers of such shows as Animal Face-Off and Rogue Nature on Discovery Channel as well as After the Attack and Into the Pride on Animal Planet.
It's no surprise that Dave (and his animals, of course) has become such a popular guests on the various talk shows. He's engaging and just great to look at. He's also outspoken about conserving water saying in an interview this year: "When people start to realize that fresh water is going to be out most important asset over the next 50 years, you're really going to see people say, 'Why don't we have any clean, fresh water? Oh, we didn't conserve."
I wrote about this handsome actor back in July and described him as, quite simply, the sexiest man alive.
At least that was my feeling after discovering Gerald McCullouch in the terrific gay comedy BearCity which was a big hit at Outfest and other film festivals.
Gerald plays the sexy and single Roger in BearCity who surprises himself and everyone else in his crowd when he falls in love with a young 20-something "twink" in this movie set in the gay "bear" scene in New York City.
Gerald, who is 43 and openly gay (hooray!) was the writer-director-star of the award-winning short film The Moment After, also has many stage credits including playing Jesus in the European tour of Jesus Christ Superstar. He is currently in LA preparing for a run in the play Daddy at the Hudson Theatre. (More info HERE.)
While he is best known for his recurring role Bobby Dawson on CSI: Crime Scene Investigation, the actor has been doing guest spots and multi-episode arcs on various television series for 20 years now with credits that include the original Beverly Hills 90210 and Melrose Place, In the Heat of the Night, NCIS, 7th Heaven, Chicago Hope and episodes of both Law & Order: Criminal Intent and Law & Order: Special Victims Unit.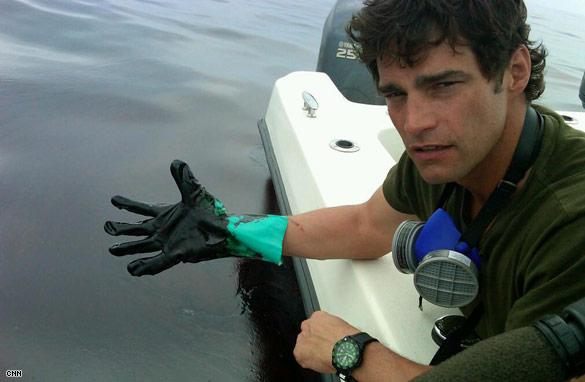 There are not many guys who are able to divert my attention away from that silver fox Anderson Cooper but CNN news and weather anchor Rob Marciano certainly is one of them.
This movie star handsome man, a correspondent for Anderson Cooper 360, has worked for CNN since 2003 and gained attention for his contributions to the network's coverage of Hurricane Katrina. By that time, heserved as chief meteorologist for radio and TV stations in Portland, Oregon, Lake Charles, Louisiana and in West Hartford, Connecticut.
Before embarking on a career in television Rob spent three years living and working in New York City as an Equity Sales Trader.
So why the switch to weather? Rob explained it all in an interview with VMan: "I've been a lifelong weather geek. I would drive my parents crazy. I knew exactly when every weather guy was on every channel, and I would switch back and forth trying to get them all. I learned early on that meteorology isn't an exact science—telling your teacher you didn't do your homework because the weatherman said it was going to snow doesn't really work."